Piano Magician Alexandru Negriuc in Concert at St James's Church Piccadilly
05/10/2018 @ St James's Church Piccadilly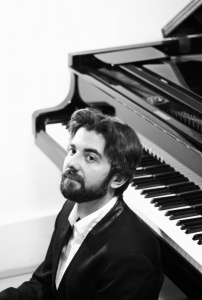 The Romanian Cultural Institute's lunchtime series in the very heart of London, at the prestigious St James's Church Piccadilly, continues with a recital by amazing Alexandru Negriuc, a musician under whose fingers the piano becomes alive, building an invisible bridge to an unearthly realm. Co-founder of the Walter Krafft International Pianistic Forum of Dinu Lipatti, he is a champion of Romanian compositions which he presents all over the world. He is also one of the few specialists in the little known scores of the 19th Century Transylvanian child prodigy Carl Filtsch, who died at only fifteen. At St James's Church Piccadilly he will present an irresistible programme of classical evergreens and Romanian works.
Programme:
F. Chopin - Valse Op 34 no. 2 in A minor, Valse Op 64 no. 2 in C sharp minor and Valse in E minor Posthume
C. Filtsch - Impromptu in B flat minor
S. Rachmaninoff - Prelude Op 23 no. 2 in B flat major, Prelude Op 32 no. 10 in B minor and Prelude Op 32 no. 12 in G sharp minor
G. Enescu - Sarabande from Suite Op 10 no. 2
P. Constantinescu - Toccata (Joc Dobrogean)
Born in 1988 in Suceava, Romania, Alexandru Negriuc began his piano studies at the age of seven at the Ciprian Porumbescu College, where he studied with professors Valan Petru and Gagiu Richard. His first solo appearances took place a year later and he made his debut with an orchestra at the age of 14. He continued his studies until the age of 25, taking part in master classes with Georg Sava, Angela Brownridge and Walter Krafft, and in recent years has given recitals in the United Kingdom, Italy, Switzerland, Germany, Australia, USA, China, Hungary, Republic of Moldova and throughout Romania. An invitation by Walter Krafft saw Alexandru appear as a soloist many times at the Munchener Musikseminar in Germany where is now a permanent collaborator.
When: Friday, 5 October at 13:10
Where: St. James's Church, Piccadilly
This lunchtime concert is free and no ticket or booking is required.