Pianistul Botond Szöcs la St Martin-in-the-Fields
27/01/2020 @ St Martin-in-the-Fields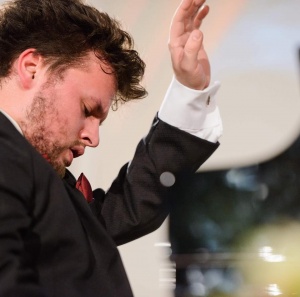 We welcome back young pianist Botond Szöcs for a lunchtime recital in the Romanian Cultural Institute's series at St Martin-in-the-Fields. The programme, which includes Chopin's integral set of piano works alongside Ciprian Porumbescu's Ballade, is sure to be a crowd-pleaser in our first concert of the New Year.
Programme:
Frédéric Chopin - Ballade No. 1 in G minor Op. 38
Frédéric Chopin - Ballade No. 2 in F major Op. 38
Frédéric Chopin - Ballade No. 3 in A flat major Op. 47
Frédéric Chopin - Ballade No. 4 in F minor Op. 52
Ciprian Porumbescu - Ballade (arranged for piano)
After the London concert, pianist Botond Szöcs will also perform in Manchester and Edinburgh:
MANCHESTER - 28 ianuarie, Z-arts Manchester, ora 18.30
EDINBURGH - 29 ianuarie, Stockebridge Church, ora 18.30
The 24-years old pianist Botond Szöcs got noticed in the music world thanks to his unmistakable energetic temperament boosted by intense artistic feelings and expressed by a persuasive power of interpretation. Student at the Faculty of Music - Transilvania University of Brasov, under the guidance of professor Stela Dragulin, a great name of Romanian and worldwide piano school, Botond has participated at numerous national and international competitions winning ten first prizes, including First Prize and the Festival's Trophy at the National Contest Victor Giuleanu (2012) and Remember Enescu Prize, awarded by George Enescu Foundation. These prizes were followed in 2017 by The Jury's Special and Excellence Prizes at the Art Estival Brasov Contest – 7th Edition, as well as the American - Romanian Academy for Arts and Sciences Music Award for Excellence -The Best Concert Performer as a Soloist, Member of a Chamber Music Ensemble and Accompanist.
Botond Szöcs started as a soloist when he was just 17 years old, playing Mozart's Concerto for Piano and Orchestra in F Major, KV 459 with Philharmonic Orchestra of Sibiu. Following that, he gave performances alongside the country accompanied by diverse philharmonic orchestras. His repertoire extended fast including the highlights of the genre, piano concertos belonging to W.A.Mozart, L.van Beethoven, E. Grieg, F. Liszt, R. Schumann, F. Chopin, S. Rachmaninov and W. Lutoslawski.
Preoccupied by chamber music, between 2015 and 2016, Botond performed the complete Mozart and Beethoven's sonatas for piano and violin. Deeply impressed by the artistic performance of the young musician, violinist Peter Rosenberg (first concert master of the Bamberger Symphoniker, Germany and Botond's partner in the Beethoven integral) said: "young pianist Botond SZOCS continues the plethora of talent in the class of the famous piano professor, Stela Dragulin. He has an eruptive and passionate temper, but senses and creates poetic aspects of music with a highly developed and consistent technique always subordinated to the musical content." Moreover, beginning with 2017, Botond started the series of recitals focused on the repertoire for two pianos and piano quintet.
Notable moments in Botond's pianistic ascension are also the appearances with recital programs both in Romania and abroad, among which we mention tours from Great Britain, Italy, Hungary, Germany, Montenegro, Republic of Moldova to Vietnam and China. However, his artistic performance was considered a success, captivating the audience with an "electrifying, deeply profound performance." (Press Release) and being constantly praised by the music critics.
Botond's interest does not stop at his performing skills, since due to his interest in scientific activities he has participated in several student competitions, where he made himself conspicuous with his works of music analysis. The two published papers in the 2017 Edition of the Bulletin of Transilvania University brought him two first prizes and also the recognition as The Best University Student Work of the Faculty of Music.
Certainty Botond Szöcs' career continues to climb and develop based on his exceptional technique and accurate intuition of music, managing to stylistically render unique interpretations of musical works from conception to execution.
When: Monday 27 January 2020, 13.00
Where: St Martin-in-the-Fields, Trafalgar Square, London
This lunchtime concert is free Please book your seat on Eventbrite.