Pianist Andrei Licaret @ St Martin in the Fields
29/07/2011 @ St. Martin in the Fields, London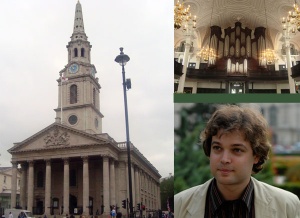 Our long-term partnership with St Martin in the Fields continues its with a lunchtime concert as part of the Pianists of the World Series. Prize-winning Romanian pianist Andrei Licaret will perform for the first time in front of the London audience.
Programme
Scarlatti - Sonatas (K 9; K 107)
Beethoven - Sonata Op.26
Enescu - Toccata and Pavana from Suite Op.10 in D
Chopin - Polonaise-Fantaisie Op.61
Andrei Licaret was born 11 September 1982 in Bucharest, and made his orchestral debut at the age of eleven. Since then he has given concerts throughout Europe and the United States, winning prizes in several competitions, among them Jeuness Musicales (1st Prize), Bucharest Yamaha (1st Prize), The Lory Wallfish Prize, 2nd Prize in Tel-Hai Competition and 2nd Prize in Shreveport Concerto Competition. His teachers have included Gabriela Enasescu, Viniciu Moroianu, Dana Borsan, Dan Dediu (with whom he studied composition) and Jacques Rouvier. He has been a regular student of Dmitri Baskirovs Mozarteum master-classes in Salzburg and also participated in the Steans Institute Program for Young Musicians at Ravinia Festival. He is currently studying in the Peabody Conservatory as a student of Leon Fleisher.
The Romanian Cultural Institute is glad to continue the partnership with St Martin in the Fields throughout 2011. Romanian musicians are back in Trafalgar Square with a line up of prodigies and virtuosos and their presence will continue on 26 October with a concert given by Matei Bucur Mihaescu, another prodigy of Romanian classical music.
When: Friday 29 July 1pm
Where: St Martin in the Fields, London.
This lunchtime concert is free and no ticket is required.