Pianist Gabriel Gîţan at St Martin-in-the-Fields
02/12/2019 @ St Martin-in-the-Fields, Trafalgar Square, London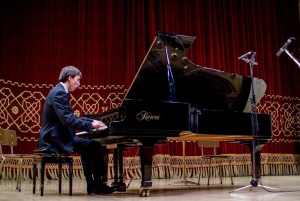 We continue to bring young Romanian musicians to your attention, with the generous support of St Martin-in-the-Fields, the name which so warmly resonates with classical music enthusiasts for its concerts held in the glorious surroundings of Trafalgar Square.
Meticulously eloquent and sensitive, Gabriel Gîţan makes his London debut with a programme including one of the pinnacles of Liszt's repertoire and a piece by Constantin Silvestri, rarely played outside of Romania. The concert is part of the Romanian Cultural Institute in London series of events marking 50 years since the death of pianist, composer and conductor, Constantin Silvestri.
Constantin Silvestri – Excerpts from Suite No 3 'Jeux d'Enfants'
Franz Liszt – Sonata for Piano in B minor
Gabriel Gîțan is currently studying at the National University of Music in Bucharest. He is a laureate of many national and international competitions in the field of solo interpretation, chamber music and accompaniment such as: Hungarian Music Festival, Bucharest – 1st prize (2018), "Dan Cumpătă" Competition, Bucharest – Grand Prize for Piano interpretation, 1st prize for Accompaniment and 1st prize for Chamber music (2016), "Ada Ulubeanu" Competition, Bucharest – 1st prize for Piano interpretation (2015), Grand Prize and Special Prize for Accompaniment (2016), 1st prize for Chamber music (2017), "Victor Giuleanu" Competition, Bucharest – 1st prize (2015), "Ville de Gagny" International Piano Competition, France – 2nd prize (2013). Gabriel Gîțan has played in various concert halls such as the Romanian Atheneum, the Hungarian Cultural Institutes in Paris, London and Bucharest, the George Enescu Museum and the Suțu Palace in Bucharest.
Constantin Silvestri is best remembered in Britain for elevating the Bournemouth Symphony into an orchestra of international repute when he was its principal conductor from 1961 until his death in London aged 55. Noted for his magical powers as a conductor, he was also an outstanding and adventurous composer and pianist. He was still a student at the Bucharest conservatoire when he gave public concerts improvising on the piano in the style of famous composers. When George Enescu finally left Romania in 1946 he confided to a friend: 'I leave with peace in my heart because I am leaving behind a gifted composer in the person of Constantin Silvestri who will bring fame to our country'.
When: Monday 2 December 2019, 13.00
Where: St Martin-in-the-Fields, Trafalgar Square, London
This lunchtime concert is free and no ticket is required.