Pianist Daria Tudor & cellist Constantin Borodin (IMO Duo) mark Enescu's birthday with spectacular recital
19/08/2020 @ RCI London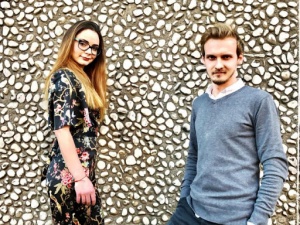 An exceptional recital celebrating George Enescu, whom cellist Pablo Casals described as "the greatest musical phenomenon since Mozart", will take place on 19 August, the composer's birthday.
The concert given by IMO Duo - pianist Daria Tudor and cellist Constantin Borodin - is organized by the Romanian Cultural Institute in London with the support of the National University of Music in Bucharest.
Programme:
R. Schumann – Adagio and Allegro, Op. 70;
D. Shostakovich – Cello Sonata in D minor, Op. 40 – 4th movement;
E. Elgar – Salut d'amour, Op. 12;
G. Enescu – Sonata for Cello and Piano No. 2, Op. 26 – 2nd movement;
J. Brahms – Cello Sonata No. 1 in E minor, Op. 38 – 3rd movement.
Daria Tudor started playing the piano in Ploiesti, Romania, at the age of four, and studied at the National College "Dinu Lipatti" and the National University of Music in Bucharest. In 2015 she was accepted to Prof. Pascal Devoyon and Rikako Murata class at the Universität der Künste in Berlin. From October 2018 she has been studying with Prof. Björn Lehmann at the same university.
Daria performed in festivals in Finland, Germany and Austria and played as a soloist with important orchestras (Romanian State Philharmonic Orchestras, Belgian Prima la Musica Orchestra, Padova and Venice Philharmonic Orchestra) and conductors (Maffeo Scarpis, Dirk Vermeulen, Fakhradin Kerimov, Horia Andreescu, Vladimir Onufriev, Ilarion Ionescu-Galaţi, Ovidiu Bălan, Sabin Păutza, Vlad Conta and Radu Postăvaru).
She had concerts in important venues in Romania and abroad: Romanian Atheneum, Mihail Jora Hall of the Romanian Radio Broadcasting Society, Angelika Kauffmann Saal – Schwarzenberg, Givatayim-Theater Tel Aviv, St. Martin-in-the-Fields London and Akishino Hall Kyoto.

Born in Chișinău, Republic of Moldova, Constantin Borodin studied, until the age of 18, under the guidance of Valentina Komissarova and Bella Savici. In 2013, Constantin moved to Bucharest and started his studies with Prof. Marin Cazacu. During the first years of university he won 1st prizes at several national competitions (Mihail Jora, Paul Constantinescu and Alexandru Moroșanu) and international competitions ("M ist fur Mozart" Chamber Music Competition in Cluj Napoca, "Emanuil Elenescu" in Piatra-Neamț).
Constantin actively participated in masterclasses held by renowned musicians such as Gautier Capucon, Valentin Răduțiu, Cătălin Ilea, Mirel Iancovici, Reinhardt Latzko and Stefan Popov. In October 2019 he was selected at the Rutesheim Cello Academie to work with Prof. Sebastian Klinger. From April 2020, Constantin has been a Master degree student of Konstantin Heidrich at Universität der Künste in Berlin. Constantin Borodin is a member of the Romanian National Youth Orchestra.
In 2018, together with pianist Daria Tudor, Constantin Borodin formed IMO Duo. Since then, they performed recitals in Bucharest, Rutesheim, Strasbourg, Berlin; were invited to play at rbbKultur radio in Berlin and also won the first prize and the special prize of the French Embassy in Bucharest at the "Mihail Jora" Competition.
Composer, violinist, pianist, conductor and teacher, George Enescu (19 August 1881 - 4 May 1955) is Romania's most important musician. He wrote three symphonies, three orchestral suites and three violin sonatas. Enescu also wrote a number of piano quintets and quartets, as well as cello sonatas and string octets. He also composed "Trois Melodies", "Sept Chansons de Clement Marot" and "Trois Melodies sur poems de Fernand Gregh". His only opera, "Oedipe", is considered a masterpiece of the 20th century.
The Enescu Society in London, founded in 2007, has a concert series at the Romanian Cultural Institute promoting Enescu's work in the UK. Read more: BBC and The Guardian.
This event is part of RCI London's Musical Summer Series, which featured previously concerts by baritone Silviu Alexandru Mihăilă & pianist Alexandru Petrovici, classical guitar player Mihai Cinca and violinist Maria Gîlicel & pianist Craig White.
When: Wednesday, 19 August 2020, 19.00
Where: online via RCI London's Facebook page and YouTube channel.