Pianist Botond Szöcs at St James's Piccadilly
06/09/2019 @ St. James's Church, Piccadilly, 197 Piccadilly, London W1J 9LL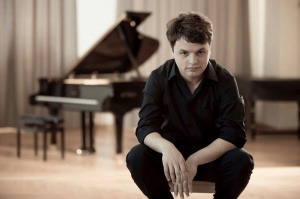 The Romanian Cultural Institute's series at St. James's Church Piccadilly continues this September with a lunchtime recital featuring up-and-coming pianist Botond Szöcs, who promises to impress us with his unmistakably energetic temperament. The programme comprises works that suit his passionate and persuasive power of interpretation: Chopin's integral set of Ballades and two of Enescu's most beloved piano works.
Programme:
George Enescu - Pavane and Bourrée from Suite No. 2, Op.10
Frédéric Chopin - Ballade No. 1 in G minor Op. 38
Frédéric Chopin - Ballade No. 2 in F major Op. 38
Frédéric Chopin - Ballade No. 3 in A flat major Op. 47
Frédéric Chopin - Ballade No. 4 in F minor Op. 52
The 23-year-old pianist Botond Szöcs is a student of the Faculty of Music - Transylvania University of Braşov, under the guidance of professor Stela Drăgulin, a great name of Romanian and worldwide piano school. He started his soloistic career when he was only 17 years old, with the Philharmonic Orchestra of Sibiu. Following that, he gave performances alongside the country, accompanied by diverse philharmonic orchestras. His repertoire extended fast, including highlights of the genre such as piano concertos by Mozart, Beethoven, Grieg, Liszt, Schumann, Chopin, Rachmaninov and Lutosławski. Botond toured across Europe and Asia, and participated in various national and international competitions and won numerous prizes, including the First Prize and the Festival's Trophy at the Victor Giuleanu National Contest, as well as the Remember Enescu Prize awarded by the George Enescu Foundation (2012).
When: Friday 6 September 2019, 1.10 pm
Where: St. James's Church, Piccadilly, 197 Piccadilly, London W1J 9LL
This lunchtime concert is free and no ticket or booking is required.