Pianist Alexandra Silocea, admired for the grace and elegance of her performances, at St. Martin-in-the-fields
10/05/2013 @ St Martin-in-the-Fields, Trafalgar Square, London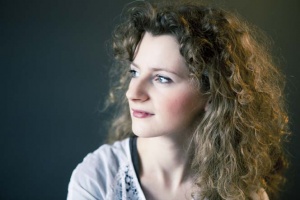 The Romanian Cultural Institute in London series of recitals at the prestigious central London venue of St. Martin-in-the-fields continues with a recital by Alexandra Silocea, one of the most praised Romanian pianists living in England. A real treat, the programme, which gravitates around the theme of "water", presents works by Liszt, Ravel, Debussy and Schubert.
Programme:
Liszt - Les jeux d'eau a la Villa d'Este
Ravel – Jeux d'eau
Debussy – Reflets dans l'eau and Poissons d'or
Liszt – Variations on a Cantata by Bach Weinen, Klagen, Sorgen, Zagen
Schubert/Liszt – Der Müller und der Bach and Auf dem Wasser zu singen
After her Debut with the London Philharmonic Orchestra under Vladimir Jurowski in December 2012, Alexandra was hailed as a pianist with an "acutely tasteful sense of tone and scale"and with "phrasing of supreme elegance" (Evan Dickerson- Bachtrack.com).
Born in 1984 in Romania with German-Russian roots, Alexandra started her musical studies in her native Romania. At the age of 16, she continued her studies at the renowned Music Academy in Vienna under the guidance of internationally acclaimed teachers: Oleg Maisenberg, Johannes Marian and Christoph Berner and later at the Conservatoire National Supérieur de Musique et de Danse in Paris: Theodor Paraschivesco and Laurent Cabasso. She also received significant artistic guidance and inspiration from acclaimed artists, among them Elisabeth Leonskaja and Maria João Pires.
Her debuts at the Vienna Konzerthaus together with the Vienna Chamber Orchestra in 2008, followed by a Recital at the Musikverein and Carnegie Hall New York in 2009, were important moments in her development as a "truly natural" artist (Pizzicato Magazine). In April 2011 Alexandra's debut CD, Prokofiev Piano Sonatas 1-5, was released by Avie Records and was received with outstanding reviews (Editor's Choice- International Piano Magazine, 4 stars in The Telegraph, Supersonic Award - Pizzicato Magazine Luxembourg, etc).
When: Friday, 10 May, 1pm
Where: St Martin-in-the-Fields, Trafalgar Square, London
This lunchtime concert is free and no ticket is required