Pernicious Paper: Securitate's Files and their Afterlife
13/06/2013 @ Romanian Cultural Institute, 1 Belgrave Square, SW1X 8PH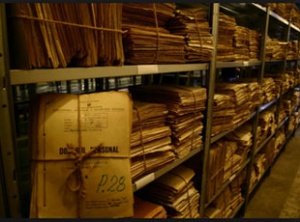 For almost fifteen years, the darkest secrets of life and death under communism have been brought to light by The National Council of the Study of the Archives of Securitate (CNSAS), the custodian of a terrible history of surveillance, repression, and human sufferance.
Historian Dennis Deletant, the ultimate authority in communist Romania in the English-speaking world, and Dinu Zamfirescu, former president of the Institute for the Memory of Romanian Exile and current member of the governing body of CNSAS, discuss the role CNSAS played in Romania's political transition and the changes this important institution of national memory and identity have brought about in the life of Romanians of all ages.
The event is organised by the British-Romanian Liberal Union, held under the patronage of HE Dr Ion Jinga, the Romanian Ambassador to the Court of St. James's, and is moderated by Iolanda Costide, a leader of Romanian community in London. The round table discussion is supported by the Romanian Cultural Institute in London.
Dennis Deletant is currently Visiting Ion Ratiu Professor of Romanian Studies at Georgetown University and Emeritus Professor of Romanian Studies at the School of Slavonic and East European Studies, University College, London. He was appointed to the board of the British Government's 'Know-How Fund for Central and Eastern Europe' in 1990 and was actively involved in its work in Romania and in the Republic of Moldova until 1999. For this service he was made an officer of the Order of the British Empire in 1995. He is the author of several monographs and volumes of studies on the recent history of Romania, among them "Ceauşescu and the Securitate: Coercion and Dissent in Romania, 1965-89" (London; New York, 1996), "Romania under Communist Rule" (Bucharest, 1998), "Communist Terror in Romania: Gheorghiu-Dej and the Police State, 1948-1965", (London; New York, 1999) and "Ion Antonescu. Hitler's Forgotten Ally" (London: New York, 2006).
Dinu Zamfirescu, former political prisoner, was arrested by the communist Securitate several times, firstly in 1945 during a protest supporting the King of Romania Michael I. A remarkable figure of the Romanian exile, he was the president of the National Institute for the Memory of the Romanian Exile (INMER) from 2003 to 2010, when the INMER merged the Institute for the Investigation of Communist Crimes in Romania (IICCR) into a new institution, namely the Institute for the Investigation of Communist Crimes and the Memory of the Romanian Exile (IICCMER). He has published a range of studies and articles on Romanian recent history and is currently the president of the Scientific Committee of IICCMER.
When: Thursday 13 June 2013, 7pm
Where: Romanian Cultural Institute, 1 Belgrave Square, London SW1X 8PH.
Free entry, but please confirm your attendance until 10 June at 020 7609 9888 or contact@nta16architects.co.uk.