Permanent and temporary public artworks unveiled in London this July
19/07 - 09/09/2012 @ Parcuri şi grădini din Londra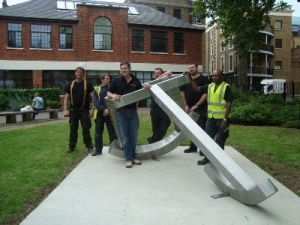 Get prepared for our new gifts to the people of London. Unique sculptures and installations will be unveiled starting on July 19 as part of the Romanian Cultural programme during the London 2012 Olympic Season.
Paul Neagu's "Edgerunner" is the first permanent sculpture by a Romanian artist to be installed in London. It will be unveiled in Owen's Fields, Islington, near to where Neagu lived and worked for 30 years. Neagu was a major influence to Anish Kapoor whom he taught at Hornsey College of Art and is also considered one of the most important Romanian sculptors since Constantin Brancusi. The unveiling will take place on 25 July, at 6.00 pm.
Cultural Stations, a three piece of urban furniture conceived by artist Minodora Cerin and architect Mircea Margarit, will be installed in Trinity Square Gardens, near Tower of London, on 19 July and can be seen untill 12 Agust. The Literary and the Science stations celebrate British success in the respective fields and the Multicultural Station celebrates the many nationalities who live in London and the Olympic values.
Two organic hay and steel sculptures by Erno Bartha will be installed on West Lake in Victoria Park and one organic hay sculpture, The Spiral of Time, will be installed in the London Pleasure Gardens on 21 July. Bartha's work seeks to remind us of our connection to nature and will be displayed untill 13 August.
An interactive PlayPoint Puzzle (24 July-13 August) by artist Miruna Amza and architect Liviu Zagan will be installed in the Live Nation site in Victoria Park on 24 July. This life-size interactive jig-saw puzzle encourages visitors to play with the plastic squares and 'solve' the puzzle by revealing sporting scenes. The puzzle will move to London Pleasure Gardens from 14 August to 10 September.
We are happy to invite you to the opening reception to mark the installation of "Nature in the City", "PlayPoint Puzzle" and "Cultural Stations", in the presence of His Excellency Dr Ion Jinga, the Ambassador of Romania to the Court of St. James's, Mr Mr Lutfur Rahman, the Mayor of Tower Hamlets and Mr Dorian Branea, Director of the Romanian Cultural Institute London.
The sculptures are a gift of Romania to the people of London, presented by the Romanian Cultural Institute in partnership with Tower Hamlets Council.
Tuesday 7 August 2012, 3pm
Pavilion Café, Victoria Park, Crown Gate West E9 7DE
Free entry.