Pavel Brăila at RCI London: Screening of 'Casa Mare' and Artist-talk
16 - 15/10/2021 @ Romanian Cultural Institute, 1 Belgrave Square London, SW1X 8PH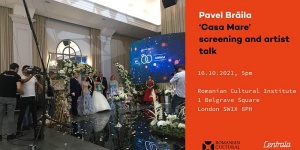 Following Pavel Brăila's thought-provoking and fascinating show at Centrala Space in Birmingham, RCI London will host a screening of his video installation and an artist talk this Saturday, from 5 PM.
Entitled Casa Mare, Pavel Brăila's video installation is immersing the viewer in original film recordings of weddings from private households in Moldova, taken throughout the last four decades 1970/80/90s and 2000. These intimate moments enter into a dialogue with an entire social dynamics revealing generational changes, the perception of the community about the wedding, the role of cultural workers and ultimately the artistic act of the wedding and the wedding itself as an artistic act. The loud brass band music and violins juxtaposing with popular hits from that time, shouts, cries of joy and happiness, different layers of noises are overlapping.
The screening will be followed by an artist-talk moderated by Roxana Dumitrache, RCI London.
Pavel Brăila is an internationally renowned artist born in Chişinău, Moldova and at present living in Chişinău and Berlin.He was invited twice to Documenta (2000/2017) and he participated in Manifesta 10 (2014). Phaidon included him in the list of the 100 best artists in the world (CREAM 3) in 2003. His works have been shown in numerous international group and solo shows hosted by Museum Boijmans, TATE Modern, The Renaissance Society, Chicago, Kölnischer Kunstverein, Palazzo delle Stelline, MUMOK, Moderna Museet, Stedelijk Museum Schiedam and many more.
He works in various media such as video, photography, performance and installation. In his works, he invites the viewer to participate in his world of cultural observation of Moldova, for which he often investigates issues that escape the global geopolitical discourse.
When: Saturday 16 October, 17.00
Where: Romanian Cultural Institute in London, 1 Belgrave Square, SW1X8PH
Entrance is free but we kindly request you to book your ticket on EVENTBRITE. Kindly book only if you are certain to attend and release the seats.
Please note that seating is unreserved.