The UK Premiere of Enescu's Symphony No. 4 in E minor - Completed by Pascal Bentoiu
29/04/2017 @ St James's Church, Sussex Gardens, Paddington, London, W2 3UD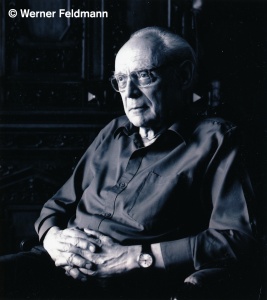 An event part of 'Pascal Bentoiu: A London Homage', our celebratory, one-month programme revolving around the fascinating personality of legendary composer, musicologist and educator. The series of events recalls the genius of Pascal Bentoiu, who passed away at the age of 88 last year, through two concerts complemented by an exhibition and a talk.
On 7 April, the great musician's artistic legacy is discussed by music critics Mihai Cosma and Richard Whitehouse and illustrated by soprano Ioana Bentoiu, the great composer's daughter, and pianist Lena Vieru Conta. The programme features Robert Schumann's 'Frauenliebe und Leben' op. 42, one of Bentoiu's favourite songs cycles, his own 'Eminesciana II' cycle, inspired by iconic Romanian poet Mihai Eminescu, and George Enescu's 'Sept chansons de Clément Marot'.
The event, part of our 'Enescu Concerts' Series, is completed by the private view of 'Pascal Bentoiu – His Life and Works', a photographic exhibition curated by Irina Niţu, designed by Horia Niţu and produced by the George Enescu National Museum in Bucharest.
When: Friday, 7 April 2017 from 19:00 to 21:00
Where: Romanian Cultural Institute - 1 Belgrave Square London SW1X 8PH
Entrance is free but it is required to book your ticket on Eventbrite.
Please note that the seating is unreserved.
On 29 April, the programme continues with a showcase of Bentoiu's fantastic orchestral skills, celebrated at St James's Church, Sussex Gardens with the UK premiere of Enescu's Symphony No. 4 in E minor, completed by Bentoiu, in the interpretation of Oberon Symphony Orchestra under the baton of Samuel Draper. Also in the programme: Gustav Mahler - 'Blumine', Bela Bartók - 'Romanian Folk Dances', and Franz Schubert - Andante in B minor from Symphony No. 10 in D.
When: Saturday, 29 April, 7pm
Where: St James's Church, Sussex Gardens, Paddington, London, W2 3UD
Tickets: £10 and £6 (concessions). You can book your tickets HERE
Who's Who:
"Pascal Bentoiu was born in Bucharest on 22 April 1927. His father, a well-known lawyer, dreamed that his son studied law, and so he did. Nevertheless, passionate about music, he privately studied violin with Vasile Filip, piano with Teophil Demetriescu, harmony, counterpoint and composition with famous Romanian composer Mihail Jora, whose favourite disciple he became. Pascal Bentoiu was forced out of the University and condemned to three years of hard labour immediately after the communists came to power in Romania. During this first Stalinist period, heavy persecutions followed for his family, especially his father, Aurelian Bentoiu, who died after 13 years of imprisonment. Released from prison in 1953, Pascal Bentoiu spent the next three years researching harmony and rhythm in Romanian folk music at the Bucharest Folklore Institute and continued composing. During the communist period and until 1989, Bentoiu kept a low public profile, refused to become a member of the Communist Party and dedicated his whole existence to music writing. His impressive body of work comprises 8 Symphonies, 4 Symphonic poems, 4 Concertos for piano, violin and cello, 3 operas, 6 String quartets, 2 sonatas, 30 songs, 21 special compositions for theatre and 6 books, among which the seminal 'Masterworks of George Enescu'. Pascal Bentoiu spent a decade working on the completion of George Enescu's 4th and 5th Symphonies, the Symphonic Poem 'Isis' and the 'Clément Marot' song cycle. Bentoiu received two international prizes - Premio Italia for his radiophonic opera 'Iphigenia's Sacrifice', the Guido Valcarenghi Prize for his 'Hamlet' as well as many important Romanian prizes. After 1989 he was elected president of the Composer's Union. He remained in charge for two years and a half, working to transform the procedures according to the democratic times. Pascal Bentoiu was married to Swiss-Romanian writer Annie Bentoiu and was the father of Ioana Bentoiu, soprano and voice professor in Switzerland. His interests were far more extended than those in the music field. He read immensely, especially literature, philosophy and history and fluently spoke six languages (including Latin). He loved football, was a great jazz fan and held an enormous sense of humour, which greatly contributed to help him and his family during some sombre years." (Ioana Bentoiu)
Ioana Bentoiu is the daughter of writer Annie Bentoiu and composer Pascal Bentoiu, with whom she learned solfeggio, theory and harmony. She studied with Romanian canto legend Arta Florescu and Valentina Creţoiu in Bucharest, with Juliette Bise in Lausanne and with Sena Jurinac in Augsburg. She began her operatic activity singing roles such as Die Zweite Dame and Pamina in 'Die Zauberflöte', Mimì in 'La Bohème', Poppea in 'Incoronazione di Poppea', Contessa in 'Nozze di Figaro' and Violetta in 'La traviata'. She also performed with various orchestras in 'Carmina Burana', 'Vier Letzte Lieder', 'Les Nuits d'été' or 'Les Illuminations'. She sang in Romania, Switzerland, Germany, Italy, France, Croatia, Czech Republic and the USA and worked with conductors and pianists Jean-Marie Auberson, Armin Jordan, Cristian Mandeal, Horia Andreescu, Jan Hobson, Jean-François Antonioli, Valentin Gheorghiu, Alexis Hauser and Camil Marinescu. She recorded works by Jean Perrin, Arthur Honegger, Pascal Bentoiu, Mussorgsky, Rimsky-Korsakow, Cui, Borodine and Rachmaninoff for Claves, Podium, Timpani and The Romanian Composer's Union. She published a biography of her beloved teacher, professor Valentina Creţoiu, and holds a Ph.D. at the National University of Music in Bucharest with and extended study on voice. Ioana Bentoiu has been teaching for a long time at the Institut de Ribaupierre in Lausanne and delivers master classes in Romania, USA and Switzerland.
Born in Moscow into a family of musicians, Lena Vieru Conta studied piano in Bucharest, Salzburg, Moscow and Geneva with Gabriel Amiras, Carlo Zecchi, Lev Naumov and Harry Datyner. She also studied drawing and painting with Gyuri Glauber and Clarette Wachtel. Her repertoire includes classical and contemporary works. She performed in Romania, Germany, France, Switzerland, Holland, the U.S.A. and Canada and recorded for the Romanian Radio, France Musique and CBC Canada. As a visual artist, Lena Vieru Conta exhibited paintings, drawings and decorative art in Romania, Holland, the U.S.A. and Canada; her works can be found in private collections in Canada, in the United States, Japan, Israel, Russia, France, Germany, Switzerland, Holland and Romania. She holds a Ph.D. in musicology with an interdisciplinary approach pertaining to theory and history of art and psychology. Currently she teaches interdisciplinary classes at the National University of Music in Bucharest.
Romanian musicologist and journalist Mihai Cosma, Ph.D., holds a National University of Music in Bucharest degree in musicology and opera directing and is the founder and the artistic coordinator of Le Grand Prix d'Opéra International Voice Competition, the most important contest of its kind in Eastern Europe. Between 2013-2016 he was advisor of the General Manager of Bucharest National Opera. He is the founder and the director of the Centre of Excellence for Research and Artistic Projects of the National University of Music in Bucharest and the editor in chief of the University's Publishing House. Since 1990 he has been the editor in chief of The Musical News magazine. He is a member of the Executive Committee of the Romanian Composers' Society and member of the Musicology and Musical Criticism Executive Bureau. Currently he teaches Musicology and History of Music at the National Music University in Bucharest. He is part of all major national and international voice competition juries and organised numerous music festivals, tours and symposiums. Mihai Cosma published many books on history of music and on opera. His activity as a music journalist is prodigious and relates to national and international newspapers and music magazines. He was awarded twice the Musicology Prize of the Romanian Composers' Society and several other awards, including Chevalier of the National Cultural Merit offered by the President of Romania.
In addition to many booklet notes for Naxos over the past 20 years (on 20th and 21st century music) and numerous other record labels, Richard Whitehouse reviews regularly for publications such as Gramophone and Musical Opinion. A founder contributor to the websites Classical Source, Arcana and The Cusp, he has written on a variety of topics from the 2009 Donaueschingen Musiktage to Brian Wilson's 'Smile' concerts. He also presented a paper at a seminar on Nikos Skalkottas in Berlin and featured in an Italian TV documentary on Luigi Nono. He has attended the last three editions of the Enescu Festival, and in 2013 had the pleasure of meeting Pascal Bentoiu to discuss the composer's music and his Enescu realizations.
Samuel Draper was born in London into a family with a continental refugee background (his mother is the grand-daughter of the Jewish-German philosopher Walter Benjamin). He trained as a doctor, reading medicine, physiology, and the history and philosophy of science at University College, Oxford, where he was also Organ Scholar. Whilst at Oxford, Samuel was first able to indulge his developing passion for conducting, which had arisen out of his orchestral experiences as a horn player, and was conductor of the Oxford University Philharmonia, directed a performance of Mozart's C minor Mass, and founded the Oxford Sinfonia Eroica. Samuel went on to study as a post-graduate scholar with the HR Taylor Trust Award for Conducting at the Royal College of Music in London with Robin O'Neill and Peter Stark. He has acted as assistant on projects with Esa-Pekka Salonen, Vladimir Jurowski and John Wilson, and studied historical performance practice with Sir Roger Norrington. Samuel was awarded the Bob Harding Bursary for Young Conductors, working with the Havant Orchestras from 2009-2011, and was a prize-winner in the International Conductors' Competition 2009 with the Kammerphilharmonie Graz at Weiz, Austria. He is currently conductor of the newly-formed Oberon Symphony Orchestra in London, but previously conducted the Nürnberger Symphoniker, Oxford Philomusica, Suffolk Sinfonia, Croydon Youth Orchestra, English Schools' Orchestra and BBC Ariel Orchestra. Championing new music as well as old, he has given premières of works of several composers, including Charlotte Bray, Rachel Lockwood, and Luís Soldado.