Panels and Conversations at the London Book Fair
15 - 17/04/2013 @ Earls Court 2, London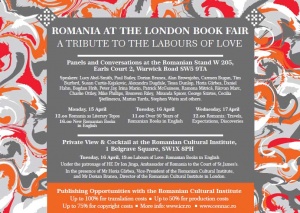 Our sixth consecutive participation at the biggest book showcase in Britain is placed under the aegis of the extraordinary Romanian literary heritage created in Great Britain, as well as in the English-speaking world, during the past decades. At the Romanian stand in Earls Court or in 1 Belgrave Square, the events set up by the Romanian Cultural Institute between 15-17 April will pay homage to the crucial contribution made by translators, editors, and authors, both in Britain, the United States and Romania, to the promotion of Romanian poetry, prose, and academic writing.
Join us to meet and converse with many of those who have contributed, with passion, competence and dedication, to a better understanding of Romania and its literature in Britain and beyond.
Our guests are Lucy Abel-Smith, Paul Bailey, Alan Brownjohn, Carmen Bugan, Tim Burford, Susan Curtis-Kojakovic, Alexandra Dugdale, Tessa Dunlop, Horia Gârbea, Daniel Hahn, Bogdan Hrib, Peter Jay, Irina Marin, Patrick McGuiness, Charlie Ottley, Mike Phillips, Bronwen Riley, Miranda Spicer, George Szirtes, Cecilia Ştefănescu, Marius Turda, Stephen Watts.
We will also present the latest Romanian books published in English: "Burying the Typewiter" by Carmen Bugan, longlisted for Orwell Prize, "Sun Alley" by Cecilia Ştefănescu, "Small Changes in Attitude" by Răzvan Petrescu, "Kill the General" by Bogdan Hrib, "Crafting Humans" by Marius Turda, and "Contested Frontiers in the Balkans: Ottoman, Habsburg and Communist Rivalries in Eastern Europe" by Irina Marin.
Romanian publishers joining the stand include: Alcor Edimpex, All, Ametist 92, Asociația "Iulia Haşdeu", Business Tech International, Carminis, Casa Radio, Curtea Veche, Orizonturi, Editura Universităţii din București, Humanitas, Igloo Media, The Publishing House of the Romanian Cultural Institute, Istros, Națiunea, Nemira, Niculescu, Nomina, Paralela 45, Polirom, RAO, România Press and Diana Press, Sigma, Teora, Tritonic, Universitaria, Vivaldi, Vox 2000, Vremea.
Monday 15 April, Romanian Stand W205, Earls Court 2
12.00: Romania as a Literary Topos
Participants: Alan Brownjohn, Tessa Dunlop, George Szirtes. Chairs: Paul Bailey and Dorian Branea
With an opening intervention by Horia Gârbea
The discussion, animated by British writers who authored stories set in Romania or with a Romanian topic, explores the uses and abuses of Romania as a literary construct from Bram Stoker to contemporary accounts.
16.00: New Romanian Books in English
Participants: Paul Bailey, Carmen Bugan, Susan Curtis-Kojakovic, Bogdan Hrib, Irina Marin, Ramona Mitrică, Miranda Spicer, Cecilia Ştefănescu, Marius Turda. Chair: Mike Phillips OBE
Enjoy the latest Romanian books published in English, from Carmen Bugan's Orwell Prize long-listed "Burying the Typewriter" and Cecilia Ştefănescu's "Sun Alley" to Romanian crime fiction series published by Profusion Publishers, the Romanian books offered by Plymouth University Press, or the academic books by Marius Turda and Irina Marin - introduced by the authors themselves with contributions from fellow writers and editors.
Tuesday 16 April, Romanian Stand W205
11.00: Over 50 Years of Romanian Books in English
Participants: Alexandra Dugdale, Daniel Hahn, Peter Jay, Stephen Watts. Chair: Horia Gârbea
Some of the most influential editors and translators from Romanian, accompanied by some of the most influential promoters of foreign fiction in Britain, revisit their long and eventful association with authors and texts from the other side of the continent in the quest to define the enduring charm of Romanian and European letters.
Wednesday 17April, Romanian Stand W205, Earls Court 2
12.00: Romania: Travels, Expectations, Discoveries
Participants: Lucy Abel-Smith, Tim Burford, Patrick McGuiness, Charlie Ottley, Bronwen Riley. Chair: Răzvan Marc
The conversation will examine the cultural and social idea of Romania emerging from literary and film travel accounts as well as the perceptions and emotions about Romania and Romanians prevalent among the British public. The event is organized with the support of the Romanian National Tourism Office in London.
When & Where: 15 - 17 April 2013, Earls Court 2, 09.00 - 18.30.
Please read our blog romanialbf.blog.co.uk (in Romanian) about Romania's presence at the London Book Fair 2013.