Panel #LFADigital2020: Connecting and Collecting. Library on Stage
25/06/2020 @ RCI London youtube channel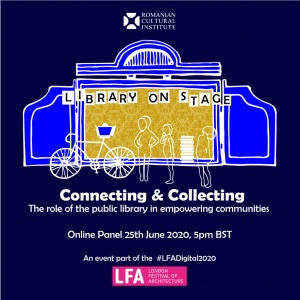 Public libraries are much more than knowledge providers; they've become platforms for creating and sharing, places for meaningful connections. How can the design process encourage community involvement, build a sense of belonging for its users and promote civic engagement?
The Romanian Cultural Institute in London will host an online panel discussion chaired by journalist Francesca Perry (Founder, Thinking City) about the role of the public library in empowering communities. The event is part of the London Festival of Architecture 2020.
The guest contributors - Fiona MacDonald (Matt + Fiona, London) and Alex Axinte (studioBASAR, Bucharest) - will present successful examples of participatory design, highlighting the power of collaboration and addressing the challenges the future might bring.
The panel will include a presentation by Viorica Buica, Anca Mihalache, Anastasia Stan and Alex Axinte about the project "Library on Stage", aiming to transform the library room at RCI London into a community cultural hub, with a focus on young audiences.
Fiona MacDonald is Head of Learning at the Design Museum in London and co-founded with the architect Matthew Springett the innovative practice Matt + Fiona. She endeavours to bridge design and participation in her projects, particularly from the perspective of young people, and has a vast experience in opening up the built environment to the broader community.
Alex Axinte co-founded studioBASAR in 2006, in Bucharest, and together with architect Cristi Borcan explored the dynamics of urban culture and public space through various participatory design projects. Currently, he is activating more as an independent researcher, highlighting the potential of commons-based urban practices in support of new civic institutions.
Francesca Perry is an experienced editor and writer committed to meaningful journalism about cities, architecture and design. She co-delivered "Urban Journalism Academy" workshops as part of UN-Habitat III in Barcelona, Bucharest and Quito. In 2012, she founded Thinking City, an editorial and events platform for the exploration of urban experience and inclusive cities.
When: Thu 25 June, 5PM
Where: live streaming on RCI London's YouTube channel and facebook page (free event)
Photos: Alex Axinte - Mapping City School | Matt+Fiona: Mega Maker Lab design workshop (photo by Mark Mercer) & Sutton House Build