Palpable Sculpture: Paul Neagu at the Henry Moore Institute in Leeds
13/08 - 08/11/2015 @ Henry Moore Institute, 74 The Headrow, Leeds LS1 3AH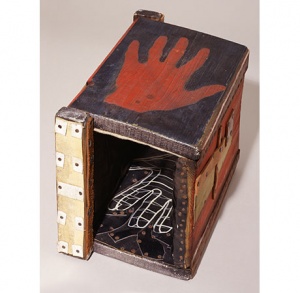 Visionary artist Paul Neagu (1938-2004), the greatest Romanian sculptor of the post-Brâncuși era who numbered among his disciples international stars like Anish Kapoor, is celebrated at the Henry Moore Institute in Leeds with a major exhibition presenting over 120 works, from drawings to sculptures and from poetry to film.
This is the biggest event dedicated to the influential modernist master in Great Britain after one of his masterpieces, 'The Edgerunner', was installed in Islington, the artist's London home, in 2012.
The project, entitled 'Paul Neagu: palpable sculpture' after one of his artistic manifestos, is set up by the Henry Moore Institute with the support of Romanian Cultural Institute and the Estate of Paul Neagu. The exhibition is curated by Lisa Le Feuvre, Head of Sculpture Studies at the Henry Moore Institute, and is accompanied by a publication, with texts by Mel Gooding, Lisa Le Feuvre, Ileana Pintilie, Magda Radu and Jon Wood, and a biography by Kirstie Gregory.
Paul Neagu graduated from Nicolae Grigorescu Institute of Fine Arts, Bucharest in 1965, training in painting under the constraints of a socialist realist syllabus that prioritised figurative painting over abstraction and sculpture. Soon after completing his studies he started to make tactile objects, developing a unique artistic vocabulary with a visionary approach to sculpture. Under the wing of the Edinburgh gallerist Richard Demarco, Neagu travelled from Romania to Great Britain in 1969. On the journey he penned his Palpable Art Manifesto, announcing that 'palpable art is a new joy for the "blind", while for the "clear-sighted" it is the most thoroughly three-dimensional study.'
In spring 1970 Neagu left Romania and after a few months in Edinburgh, he made London his home, becoming a British citizen in 1977. In London his work was first seen at Sigi Krauss Gallery in 1971 where he presented 'Cake Man', an edible sculpture event. This was followed by solo exhibitions at the Serpentine Gallery (1973), Modern Art Oxford (1975) and the Institute of Contemporary Arts (1979), with each exhibition carefully constructed by Neagu himself. In 1979 his work was included in the very first British Art Show; in 2015 British Art Show 8 is presented at Leeds Art Gallery, alongside 'Paul Neagu: Palpable Sculpture'. As well as being a sculptor who recalibrated what art could be, Neagu was an inspirational teacher. He began teaching in 1973, first at Hornsey School of Art and then at the Royal College of Art, teaching some of Britain's most successful sculptors, including Antony Gormley, Anish Kapoor and Rachel Whiteread.
You can find out more about 'Paul Neagu: palpable sculpture' exhibition and the collateral events on the Henry Moore Institute website.
When: 13 August - 8 November, Tuesday - Sunday, 11am - 5.30pm, 8pm on Wednesdays
Where: Henry Moore Institute, Galleries 1, 2 and 3 and Upper Sculpture Study Gallery on 74 The Headrow, Leeds LS1 3AH
Admission is free.