Outstanding Women Architects in Romania
13 - 28/06/2019 @ Romanian Cultural Institute, 1 Belgrave Square, SW1X8PH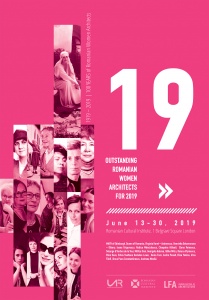 This June, to mark Romania's eighth participation at the London Festival of Architecture, a citywide celebration of architectural innovation and international built environment, we focus on female creativity and bring to the fore some of Romania's most remarkable talents in the field.
Throughout the years, several courageous young ladies broke the barriers of Romanian society and became first woman-architect (Virginia Haret - Andreescu), exceptional designer of Royal residences and Ambassador of cross influences between Romania and the UK (Queen Marie) or outstanding voices for an ancestral tradition in modernity (Henrieta Delavrancea - Gibory). All of these women and many more in later decades forged new ground, not only in their work but also in the future of architecture. Under the influence of Queen Marie - the first woman to be a member of the Academy des Beaux Arts in Paris -, who brought to Romania the taste for "vernacular" architecture and sophisticated simplicity, female artists and architects have become permanent and crucial household names in the social and cultural life of Romania from the interwar period to contemporaneity.
Celebrating 100 years of female creativity in Romanian architecture, the Union of Architects in Romania (UAR) presents, through a photography exhibition entitled 'Outstanding Women Architects in Romania' and curated by arch. Ileana Tureanu, 19 outstanding women in the field: strong professionals and distinguished personalities engaged in social and civic matters, environment protection, conservation and restoration of monuments, as well as education.
Opened in the presence of arch. Ileana Tureanu, President of the Union of Architects in Romania and arch. Silvia Pintea, President of Bucharest 2nd District - UAR, the exhibition is inaugurated with a talk by Prof. Augustin Ioan of the Ion Mincu University of Architecture and Urbanism in Bucharest. The event is organized in partnership with the Romanian Cultural Institute.
When: Opening 13 June, 7pm. The exhibition continues until 28 June, Mon-Fri between 10am-5pm.
Where: Romanian Cultural Institute, 1 Belgrave Square, London SW1X8PH
Free entry. Please confirm your attendance on EVENTBRITE.