In Short, Europe: Outdoors in Isolation directed by Matei Branea
28/10 - 04/11/2020 @ online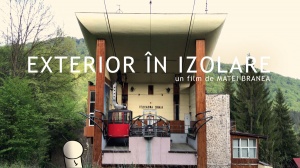 Following the success of the first edition presented earlier this year on Brexit Day and hosted by the Romanian Cultural Institute in London, EUNIC London (European Union National Institutes for Culture) is organizing the online film festival 'In short, Europe: ESCAPE' as a celebration of European cinema and its shared values and culture with the UK.
Romania is represented with the animation Outdoors in Isolation (2020) directed by Matei Branea.
Live event: Monday 2 November 2020, 7pm
Panel discussion on animation and moving image films with directors Ami Lindholm, Dina Velikovskaya, Matei Branea, Aoife Doyle and Skirmanta Jakaitė. Please register to attend here.
Born and based in Bucharest, Matei Branea is a comics and 2D animation artist, the creator of Omulan, a minimalist character which became a local hit in 2002 with the publication of its dedicated Hardcomics issue. His best-known works are his comics and animations starring Omulan, the animations for the Marcă Înregistrată TV show, the collaboration with Planeta Moldova comic duo for a two seasons TV show, the Invidia music video and his signature posters and animation promos for NexT International Film Festival in Bucharest. His comics and illustrations were published and exhibited internationally from Tokyo to New York, through Berlin, London, Paris and Bucharest. Branea currently teaches animation at the Bucharest Film School (UNATC) and has finished a fresh and spicy 15 min animation, "Omulan!", a cosmic story about the meaning of life.
Outdoors in Isolation (Exterior in izolare) | 3', animation 2D-collage, 2020
Synopsis: A portrait of Sinaia mountain resort during the emergency state, as seen through Omulan's eyes.
Directed and animated by Matei Branea
Camera and editing by Ana Branea
Sound design: Dan-Ștefan Rucăreanu & Matei Vasilache
Music: Matei Vasilache
Special effects: Tudor Calnegru
When: 28 October - 4 November 2020
Where: online | Please register here in order to receive the instructions by email or simply go to https://vimeo.com/showcase/inshorteuropeescape and use the promocode Escape20 to watch all films for free.
IMPORTANT INFO:
Once you have registered for the event, you will receive a link with a password via e-mail on the start date of the festival.
The full festival programme is available to view here.
All films will be available to watch for one week only within the UK. All films have English subtitles and are suitable for 16+ audience.