Our Final Concert of Enescu's Season: Grandeur, Poetry and Superb Music: Verona Maier and Irina Nanushi
02/06/2022 @ Romanian Cultural Institute in London, 1 Belgrave Square, SW1X 8PH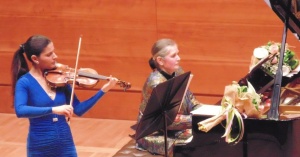 The much-anticipated and spectacular recital offered by the violinist Irina Nanushi and Verona Maier is a spellbinding feast of music ending this season. Their fascinating repertoire will include grand names such as: Elgar, Brahms, Vitali, Chausson and, of course, George Enescu.
Programme:
Tomaso Antonio Vitali - Chaconne in G minor (arr. Ferdinand David)
Ernest Chausson - Poème op.25
Edward Elgar - Romance for Violin and Piano, Op.1
George Enescu - Enescu Violin Sonata No.3 in A minor "Dans le caractère populaire roumain", Op.25
Johannes Brahms - Scherzo from sonata F-A-E
Irina Nanushi is an appreciated and versatile artist. She is a graduate of the University of Music, Bucharest, under the guidance of Daniel Podlovski, violin soloist of National Philharmonic Orchestra "Moldova", Iași, Romania and she has refined her technique with prof. Petre Lefterescu. In 2007 she earned a master degree on Beethoven's piano and violin sonatas and starting 2013 she finished hr PhD from the University of Music Bucharest, with a thesis on Albanian composers after 1900. Her comprehensive repertoire includes works from Baroque, Classicism, Romanticism – as well as contemporary ones. She is a member of Royal Chamber Orchestra and collaborates with the Philharmonic "George Enescu" having numerous important concerts in Austria, Germany, Belgium, Switzerland, Italy, Great Britain, Northern Macedonia, Albania.
Verona Maier is a renowned Romanian pianist who is also a University Professor for Chamber Music at The National University of Music, Bucharest (since 1990). In 2006, she was conferred the academic title of Doctor in music by the National University of Music in Bucharest. Her repertory covers chamber music for piano from Classicism to Romanticism and modern works, Early Renaissance and Baroque music as well as contemporary music, for harpsichord and organ. She also worked as musical advisor for several Romanian films including An Unforgettable Summer/O vară de neuitat, directed by Lucian Pintilie (1994) and Friend's Letters/Scrisorile prietenului, directed by Mircea Veroiu (1997). In 2004, Verona Maier has been awarded the Cultural Merit Medal– First class by the Presidency of Romania.
When: Thursday 2 June 2022, 19.00
Where: Romanian Cultural Institute in London, 1 Belgrave Square, SW1X8PH
Entrance is free but we kindly request you to book your ticket on EVENTBRITE. Kindly book only if you are certain to attend and release the seats.
Please note that seating is unreserved.