Our Cultural Diplomacy Programme welcomes its fourth recipient
17/09 - 17/11/2013 @ ICR London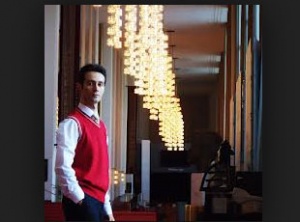 ICR's training and coaching scheme in cultural diplomacy continues with the arrival of cultural manager and artist Ghenadie Sontu, the fourth winner of the scholarship since the programme's launch in the summer of 2011.
In the following two months, Ghenadie will have the chance to develop skills and abilities that are crucial in cultural project management and cultural diplomacy; acquaint with the standards and practices that characterize one of the most sophisticated and competitive cultural markets in the world; and initiate in the procedures and working practices adopted in our cultural diplomacy actions.
Ghenadie Sontu is the Founder and President of ARS DOR Association, a center for art and professional development in Moldova, which focuses on the development and promotion of Moldova's cultural sector. Currently Ghenadie is the Chairman of the Advisory Committee at Eastern Partnership Culture Programme funded by the European Union.
He is a Fellow of DeVos Institute of Arts Management, at Kennedy Center in Washington D.C., USA, and the expert of the Republic of Moldova at the Compendium-Cultural Policies and Trends in Europe Programme of Council of Europe. Previously, he worked for the Ministry of Culture of the Republic of Moldova as the Deputy-Director at the Agency for Inspection and Restoration of Monuments.
Additionally, Ghenadie serves as a consultant in the frames of the project "Troika Moldova" developed through the European Neighborhood Programme, Arts & Culture Programme of the Open Society Institute – Budapest, the Soros Foundation Moldova and European Cultural Foundation. He served as the President of the Youth Parliament of Moldova and launched the International Art Project Eurointegration through Art. He has received a fellowship for trainers in cultural policy. Ghenadie graduated from a three-year programme of the European Cultural Foundation and Soros Foundation entitled Consolidation of Cultural Sector of Moldova and holds degrees from the Academy of Fine Arts and the Laboratory of Philosophy, Anthropology, and Culturology of the Invisible College of Moldova.
We look forward to welcoming Ghenadie in London!