Oscar Wilde's The Happy Prince, staged by the Theatre for Children and Youth Luceafărul, broadcasted by RCI London
19 - 20/06/2021 @ online | Website, Facebook page and YouTube channel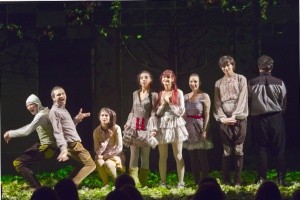 Be a cool kid and replace your movie night with theatre, your family will be so impressed that they will offer you popcorn from a golden bucket. Or at least, they won't be asking you to clean your room for a while!
This weekend, RCI London invites you to watch The Happy Prince, based on Oscar Wilde's marvellous story and staged by director Radu-Alexandru Nica at the Theatre for Children and Youth "Luceafărul" from Iași, Romania. The show has English subtitles and is available on RCI London's Facebook page and YouTube channel exclusively in the UK between 19-20 June.
The Happy Prince
Cast: Dumitru Georgescu, Alex Iuraşcu, Beatrice Volbea, Ioana Iordache, Aurelian Diaconu, George Cocoş, Ioana Corban, Minodora Lungu
Dramaturgy: Daniela Magiaru
Scenography: Ioana Popescu
Music: Vlaicu Golcea
Choreography: Florin Fieroiu
In Romanian with English subtitles | 1 hour | Recommended for 10+ audiences.
"Luceafărul" Theatre is a public theatre in Iași, specialising in plays for families and young audiences. Founded in 1949 as the Puppet Theatre, it became in 1973 the Theatre for Children and Youth. In 1987, the institution was renamed "Luceafărul" (The Evening Star). Every year in October, it hosts "The International Theatre Festival for Young Audiences".
When: 19-20 June 2021
Where: RCI London's online channels: Facebook page and YouTube channel