Alexandra Dăriescu premiers Lipatti's "Concertino" with the Orchestra of St Paul's
26/05/2012 @ LSO St Luke's, 161 Old Street, London EC1V 9NG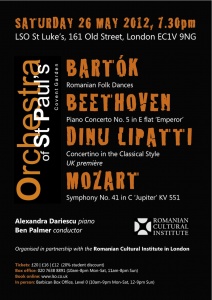 Alexandra Dăriescu, the exceptionally talented and accomplished young pianist, joins the Orchestra of Saint Paul's at LSO St Luke's with a programme of classical and Romanian timeless pieces: Beethoven's Emperor concerto, the charming Concertino in the Classical Style by Dinu Lipatti (UK premiere), Romanian Folk Dances by Bartók and Jupiter Symphony by Mozart.
Under the baton of conductor Ben Palmer, acclaimed for his innovative programming, the Orchestra of Saint Paul's (OSP) resident in Covent Garden has developed a reputation for imaginative and stylish performances. In addition to a thriving concert series in its home venue, OSP makes annual visits to the Southbank Centre's Purcell Room and St John's, Smith Square. OSP is unique among modern instrument chamber orchestras in playing music of the baroque, classical and even romantic periods entirely without vibrato.
Featured as BBC Music Magazine's Rising Star in June 2011, Alexandra Dariescu has taken London's most exquisite classical music circuit by storm, thanks to her impeccable technique and stunning charisma. Selected by Young Classical Artists Trust in 2008, Alexandra was a Laureate at the Verbier Festival Academy where she won the CUBS Bank Verbier Festival & Academy Prize. She went on to win the Guildhall Wigmore Hall Prize and the Romanian Ambassador's prize for her outstanding contribution to promoting Romania's image in the UK.
Highlights in Alexandra's 2011/2012 season include her debut at the Carnegie Hall in New York, performances with the Royal Philharmonic Orchestra at the Barbican Centre, Grieg piano concerto at the Corn Exchange in Cambridge, Shostakovich piano concerto No. 1 with the Orchestra of St Paul's at the Southbank Centre in London and Rachmaninov piano concerto No. 2 with York Symphony Orchestra.
When: 26 May 2012 :19:30
Where: LSO St Luke's, 161 Old Street, London EC1V 9NG
Tickets: £12 £16 £20 (20% student discount) or on Barbican Centre website