Opera Star Anita Hartig Sings in London for The National Day of Romania
05/12/2013 @ Institutul Cultural Român, 1 Belgrave Square, Londra, SW1X8PH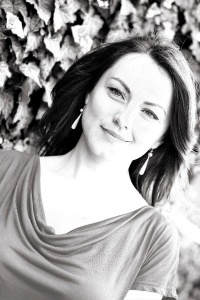 We are delighted to present Romanian soprano Anita Hartig, Wiener Staatsoper star, in a Gala Recital for the National Day of Romania. The concert programme includes timeless works by George Enescu, Richard Strauss, Wolfgang Amadeus Mozart, Alfredo Catalani, Giaccomo Puccini and Charles Gounod amongst others. Anita Hartig will be accompanied by pianist Mats Knutsson.
The concert will be followed by a reception.
The Gala Recital is presented in partnership with the Romanian Embassy in the UK and is part of the Enescu Concerts Series, jointly organised by the Romanian Cultural Institute in London and the Enescu Society.
Anita Hartig had her debut with the Royal Opera House Covent Garden this spring and impressed the audiences and critics alike as Mimi in Puccini's "La Bohème". The Telegraph described her as "being the latest in a long line of fine Romanian lyric sopranos as Zeani, Cotrubaş, Văduva or Gheorghiu to enjoy special success" all over the world, from the Welsh National Opera, to Covent Garden, Metropolitan Opera New York, Opéra national de Paris or Vienna State Opera. After graduating the Cluj Music Academy, she keeps furthering her studies with legendary Ileana Cotrubaş. Since 2009 she has been a member of Vienna State Opera. Future engagements include the roles of Mimi in "La Bohème" for Metropolitan Opera New York, Bavarian State Opera Munich and Opéra national de Paris-Bastille (2014); of Micaela in "Carmen" for Metropolitan Opera New York (2014); of Susanna in "Le nozze di Figaro" for Vienna State Opera (2014), Royal Opera House Covent Garden (2015) and Metropolitan Opera New York (2016).
Swedish pianist, conductor and professor Mats Knutsson studied in the Vienna and Munich Music Academies. He taught at opera schools in Gothenburg and Copenhagen and coached at the Royal Theatre in Copenhagen 2000-2009 and at the Vienna State Opera since 2009. The pianist participated in prestigious festivals such as Bayreuth and Salzburg and has performed in numerous recitals in Scandinavia, France, Portugal and Austria.
When: Thu 5 December 2013, 7pm
Where: Romanian Cultural Institute, London
Admission is free, but places are limited. Please confirm your attendance at T: 020 7752 0134, E: office@icr-london.co.uk
The seats are allocated on a first come, first served basis.