Open House London: The Majestic 1 Belgrave Square is Welcoming Visitors
11 - 12/09/2021 @ RCI London, 1 Belgrave Square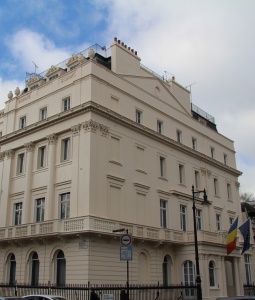 The Romanian Cultural Institute is delighted to open its doors and welcome visitors for Open House, a huge city-wide celebration of openness and exploring the architecture and urban landscape of London.
Built in 1828 and leased to the Romanian foreign ministry in 1936, the majestic 1 Belgrave Square was the official residence of the Romanian ambassador in London. Basevi, a pupil of Sir John Soane, had studied in Italy and Greece and he used a sort of Classical Lite style for the building. Since 2006, the house has been used jointly by the Embassy and the Cultural Institute. Brâncuși room, named after the renowned Romanian sculptor, is decorated with some very English panelling and has a mock Jacobean fireplace. The main room on the first floor, named Enescu room - after the great Romanian composer - is a huge and handsome L-shaped salon, with access to the exterior balcony through tall and cinematic windows. At one end, an arch and a raised platform mark out a space used for performances; belonging to the famous Romanian pianist, Dinu Lipatti, the grand piano in here is still played by foreign and Romanian pianists.
Visiting Safely
The health and safety of our visitors and staff is paramount, so we kindly ask visitors to follow government advice on safety measures as a minimum. Everyone entering the building has to keep a social distance of at least two meters (members of the same household can walk together). Face coverings recommended, but not mandatory.
When: 11 & 12 September 2021, 10AM – 5PM.
Where: Romanian Cultural Institute, 1 Belgrave Square, London SW1X 8PH.
Free entry.