One and a Half Prince for Belgravia's Romanian Cinematheque
14/05/2019 @ RCI London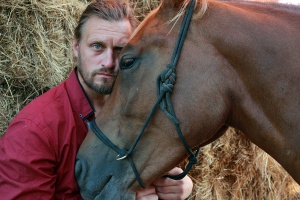 The series of UK premieres at our Romanian Cinematheque continues, in May, with Ana Lungu's second feature film, 'One and a Half Prince' (2018).

"A story about friendship and how it can be jeopardised by a stronger feeling, the film is a touching exploration of how we are always better off in the company of friends we trust." – Ștefan Dobroiu, Cineuropa
"There's a uninhibited, casual intimacy to this portrait of a trio of friends. " – Wendy Ide, Screen Daily
Synopsis: The film follows the story of three old-age friends who fail, for various reasons, to have a family. As a solution against loneliness, Iris, Marius and Istvan choose to live together for a while in a rented apartment in Bucharest. When Iris falls in love with a Hungarian writer in Transylvania, the "happy family" is in danger of collapsing and their adventure almost comes to an end.
Ana Lungu (b. 1978) studied film directing at the National University of Theatre and Film in Bucharest (UNATC) and began her career in film as a script supervisor for the production of Cristi Puiu's 'The Death of Mr. Lazarescu' (2005). In 2010, together with Ana Szel, she directed 'The Belly of the Whale', selected in Locarno's Filmmakers of the Present Competition. In 2015, with her debut film 'Self-Portrait of a Dutiful Daughter', which premiered at the Rotterdam International Film Festival, Ana Lungu won The Best Fiction Film at the Crossing Europe Film Festival, Linz. Since then, her production was selected in various international film festivals all over the world such as Sao Paulo IFF, CinEast Luxembourg or Belfort Entrevues.
Her most recent feature film, 'One and a Half Prince' (2018), was selected in the Best Film Category of the Sarajevo International Film Festival.
'One and a Half Prince' / Un prinț și jumătate
Directed by Ana Lungu
Produced by Anca Puiu, Mandragora
Screenplay by Ana Lungu, Iris Spiridon
Starring: Iris Spiridon, Marius Manole and István Teglas
Running time: 1h 45m
In Romanian with English subtitles. Please note the film contains strong language - not recommended for under 12s.
When: Tuesday 14 May 2019, 19.00
Where: RCI London, 1 Belgrave Square, London SW1X 8PH
Admission is free and seats are allocated on a first come, first served basis. Please confirm your attendance on EVENTBRITE.