Olympics in Belgravia
27/09 - 07/10/2018 @ RCI & London theatres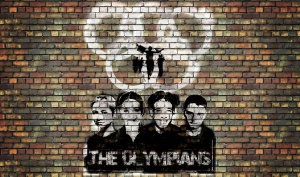 Our autumn theatre season continues where you would least expect it - at the Olympics!
'The Olympians', a coming-of-age story that looks at themes of great relevance in today's world - immigration, class divide, body image and race -, is brought to our stage by Romanian-British trio Beatrice Ragea, Ioana Goga and Jez Davess-Humphrey. A fun and edgy show that strikes a chord in the individual conscience, the play will continue at London's Tara Arts Centre and Kings Head Theatre.
The action is set in 1979, at the Belgrave Sporting Academy in South-West London. The qualification season for the biggest sporting competition in the world is about to start. Join Irina, Will, Carl and Cristina for one hour of their life as they are about to embark on the quest of obtaining the most acclaimed and desired medal in the sporting world, the Olympic medal. Secrets and intentions are revealed, friendships are broken, but more importantly this hour is one that could potentially shape the destinies of these four teenagers.
The Olympians
Creative team: Jez Davess-Humphrey (Director/Actor), Beatrice Ragea (Actress/Writer), Ioana Goga (Actress) and Jonathan Sollo (actor)
Produced by: Eye Opening Theatre Company
Running time: 1 hour. The show will be performed in English.
Eye Opening Theatre Company was founded in 2015, with the aim of creating and putting on shows that raise awareness about global issues such as xenophobia, racism and mental health, among others. The Olympians is their first show and it has previously been performed at the Arthur Cottrell Theatre Studio and at the Rose Theatre Studio, the latter being part of the International Youth Arts Festival in Kingston upon Thames.
When: Thursday 27 September 2018, 7pm
Where: Romanian Cultural Institute, 1 Belgrave Square, London SW1X8PH
Entrance is free but it is required to book your ticket on Eventbrite. Please note that the seating is unreserved and that latecomers will not be admitted.
The play can also be seen on the following dates:
1 October 2018 (7:30pm) at Tara Arts Centre, Earlsfield, London SW18 4ES │ Tickets (£12.50) here.
7 October 2018 (4pm) at Kings Head Theatre, 115 Upper Street, London N1 1QN │ Tickets (£16) here.