Olivier Award Winner Francesca Velicu Dances on Paul Constantinescu's Masterpiece
27/08/2020 @ Romanian Cultural Institute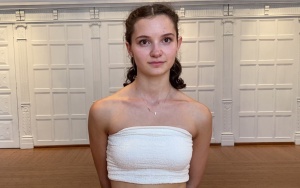 Francesca Velicu, First Artist of the English National Ballet, graced us with her presence in 1 Belgrave Square and performed Toccata, choreographed by Nancy Osbaldeston.
RCI's Brâncuși Gallery welcomed the award-winning Romanian ballerina performing a short piece on music composed by Paul Constantinescu. The clip will be available on Thursday, 27 August 2020, at 19.00, online via RCI London's Facebook page and YouTube channel.
"When Francesca Velicu dances herself to death, her performance has the power and stagecraft of an adult but the sobbing terror of a child." – Judith Mackrell, The Guardian, 2017
Born in Bucharest, Francesca Velicu studied at the Choreography High School Floria Capsali in Bucharest and the Bolshoi Ballet Academy. In 2015, at the age of 17, she came back to Romania to work at the National Ballet in Bucharest. She joined the English National Ballet in 2016 and was quickly promoted to First Artist the following year.
Francesca was awarded the 2018 Olivier Award for Outstanding Achievement in Dance for her role as the "Chosen One" in Pina Bausch's Le Sacre du printemps. Some of her notable roles include Clara/Sugar Plum Fairy, Chinese and Spanish in Wayne Eagling's Nutcracker, Odalisque in Le Corsaire, Pas de Trois in Derek Deane's Swan Lake, Princess Florine (Bluebird) in MacMillan's Sleeping Beauty and third principal couple in Liam Scarlett's No Man's Land.
She first performed on Paul Constantinescu's Toccata in July 2018 at the London Coliseum, part of the English National Ballet's 2018 Emerging Dancer Award.
Music in this video:
Song: Joc Dobrogean – veloce (quasi una Toccata)
Pianist: Mihaela Ursuleasa
Album: Piano & Forte
Licensed by Kontor New Media Music (on behalf of Berlin Classics); ASCAP
When: Thursday, 27 August 2020, 19.00
Where: online via RCI London's Facebook page and YouTube channel.