Octavian Saiu reflects on Beckett and his posterity at the Edinburgh International Festival
23 - 30/08/2013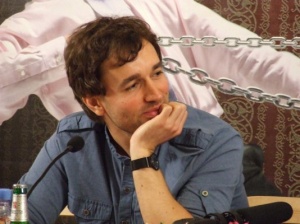 Theatre critic and professor Octavian Saiu joins a select ensemble of British specialists in and aficionados of Beckett, comprised of journalist Jeremy How (BBC Radio 4), dramatist Jonathan Myerson, Derval Tubridy (Goldsmiths College) and Mark Nixon (Beckett scholar), to discuss the great Irishman relevance today and his innovative ways of staking his work. The conversations, Infinite Possibilities: Drama on the Radio, Quad and Beckett and Contemporary Art: Make Sense Who May, which are part of a bigger programme of performances, films and lectures entitled "Beckett at the Festival", will take place on 27 and 28 August.
More information on "Beckett at the Festival", 23-30 August, HERE
Octavian Saiu has taught theatre and dramatic literature as Associate Professor at the National University of Theatre and Cinematography (NUTC) in Bucharest and as Guest Lecturer at the University of Otago in New Zealand. In 2008-2009, he was Visiting Fellow at the University of London. He holds a PhD in Theatre Studies (NUTC) and one in Comparative Literature (Otago). He has been actively involved in several worldwide theatre events and academic conferences in Romania, Israel, Canada, Brazil, New Zealand, Sweden, Ireland, etc. Since 2004, he is the Chair of the Academic Conferences of Sibiu International Theatre Festival (SibFest), one of the largest performing arts festivals in the world. A former co-editor of Theatre Nowadays, he is a founding editor of Romanian Studies in Theatre Theory. He is currently the Vice-President of the Romanian Section of the International Association of Theatre Critics (IATC). He has published four theatre books, one of which received the Critics' Award in 2010. His most recent publication in English is the monograph In Search of Lost Space (NUTC Press, 2010). He is Vice-President of the Romanian Section of the International Association of Theatre Critics (IATC) and Director of the Eugène Ionesco–Samuel Beckett Research Centre at NUTC.
When: 23-30 August
Where: Events within "Beckett at the Festival" will take place in various venues.
For times, places and tickets click HERE