Object in Focus: Romanian Easter Eggs
26/02 - 07/06/2013 @ Vestry House & Valence House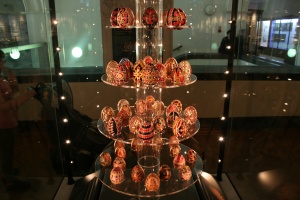 In association with the Horniman Museum and Gardens, we celebrate Easter traditions through a special display of over 80 Romanian decorated eggs at the Vestry House and Valence House museums, London. The skillfully painted eggs come from Bucovina, the north-eastern region of Romania, renowned for the spectacular exterior frescoes on the walls of its monasteries.
Visit Vestry House and Valance House to enjoy the beauty of vivid colours and ingenious patterns, along with the festive traditions of new life in the spring.
Family egg painting event at Vestry House – Weds 3 April, 1.30 - 4.00pm, free drop in session. Call 020 8496 4391 with any enquiries.
Family egg painting event at Valence House – Thurs 11 April, 11am & 2pm, 45 minute timed sessions. Free but call 020 8227 2034 to book places.
When: Vestry House, 26 February - 8 May 2013 & Valence House, 27 February - 7 June 2013.
Where: Vestry House Museum, Vestry Road Walthamstow, London E17 9NH & Valence House Museum, Becontree Avenue, Dagenham RM8 3HT.
Free admission.