Romanian Traditions at the Horniman Museum
02/04 - 30/06/2012 @ Horniman Museum and Gardens, 100 London Road, Forest Hill, London, SE23 3PQ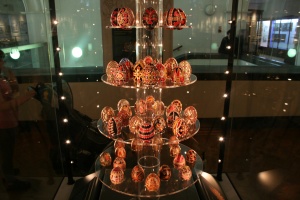 We herald the coming of Easter in London through some of the most beautiful objects of Romanian traditional world. The Horniman Museum, in association with the Romanian Cultural Institute in London and the Bucovina Museum in Suceava will display over 60 uniquely decorated Easter eggs, as part of the museum's Object in Focus series. If you want to learn how these wonderful objects are made, join the Romanian Painted Eggs masterclasses offered by two authentic craftswomen from Northern Moldova.
Easter is one of the most important religious festivities in Romania. Some of the traditions derive from pagan rituals, relating to symbols of new life in the spring. These have merged with Christian meanings. The practice of dyeing eggs red relates to the story that when the Virgin Mary came to see her son at the Crucifixion she was carrying a basket of eggs. She laid the basket at the foot of the cross while she prayed. His holy blood dripped onto the eggs and made them red, so the Lord said: 'From now on you should dye eggs red to remember my crucifixion.'
Nowadays many colours and patterns are used, some designs carrying religious meanings.
The exhibition presents a colourful selection from the Museum's collections and is accompanied by film showing how to pattern the eggs, used by Romanian craftspeople.
Also at the Horniman Museum, one of the attractions of the The Body Adorned: Dressing London Exhibition is a superb Romanian traditional costume, with a lavish pattern favoured by the rich peasant families at the beginning of the 20thcentury. The Horniman Museum has an outstandingly rich collection of about 800 Romanian costumes, objects and archive photos, which will form the basis of another exhibition in 2014.
When: 2 April 2012-30 June 2012
Where:
Exhibition: Balcony Gallery, Horniman Museum. Free entry. Daily from 10.30am - 5.30pm
Workshops: Gardens Pavilion, Horniman Museum. Tickets cost £5. Places must be booked in advance, using the form below. Call 020 8291 8686 for additional information.