Writer Norman Manea became a Fellow of the Royal Society of Literature. He chose to sign the roll book with Dickens's quill
13/06/2012 @ Romanian Cultural Institute London, 1 Belgrave Square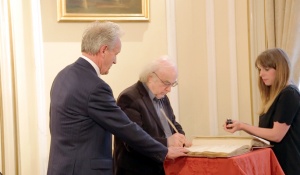 The renowend writer of Romanian origin Norman Manea became a Fellow of the prestigious Royal Society of Literature (RSL) during a special ceremony, on 31 May, at the Romanian Cultural Institute in London. Invited to sign into the roll book using either Dickens's quill or Byron's pen, Manea chose Dickens's quill.
"I want to thank the Royal Society of Literature for welcoming so friendly a Balkan phantom", said the author, with a touch of irony. "It proves that we live in a globalised world and that we are not only the result of our biography, but also of our bibliography".
After the greeting speech of the RSL President, Colin Thubron, Norman Manea read a few pages from his latest books The Lair and The Fifth Impossibility: Essays on Exile and Language published by Yale University Press.
Almost 100 people attended the ceremony, including the Chair of the RSL Anne Chisholm, writers Elaine Feinstein, Paul Bailey and Georgina Harding, and the chief copy editor of the Yale University Press London, Candida Brazil.
Norman Manea is a major Romanian contemporary novelist and essayist, whose distinguished international reputation has seen him ranked as a potential candidate for the Nobel Prize for Literature.
According to Mario Vargas Llosa: "Norman Manea is a superb writer, who gives an extraordinary testimony of a rich and dramatic life under one of the most grotesque and ferocious dictatorships".
Manea first published in Communist Romania in the 1960s, producing a string of socially critical works that led to his departure in 1986. He now lives in New York. His works have been translated into more than 20 languages. He is also the recipient of world famous literary prizes, including the MacArthur Award (U.S.), the Nonino Prize (Italy), the Prix Médicis Étranger (France), the Nelly Sachs Prize (Germany). He is a member of the Berlin Academy of Arts and was honoured by the French government with the title Commandeur de l'Ordre des Arts et des Lettres.