The maverick of Romanian composition opens our 2012 programme
20/01/2012 @ 1 Belgrave Square, SW1X 8PH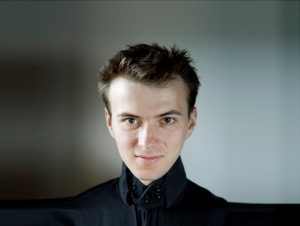 We cordially invite you to the opening event of our 2012 Programme with an evening of chamber music by the revelation of Romanian contemporary music, composer and violinist Vlad Maistorovici, on Friday 20 January. The line-up of performers includes award-winning young musicians such as violist Daniel Palmizio, pianist Diana Ionescu, soprano Eliana Pretorian and members of the Finzi Quartet, Mercury Quartet and Consortium5.
Programme:
Cadence En Espace for viola and piano (UK premiere)
Night Music for string quartet
Monument for violin and piano
transScent for piano
Khadina for 8 soloists
The programme features a selection of Maistorovici's chamber works spanning over 10 years that revolve around a nocturnal theme - inspired by the urban night, night in nature, the cosmic darkness, as well as the abstract or imaginative idea of night, in which darkness becomes light. The title of the evening's concert is taken from his awarded string quartet Night Music which was composed in the winter of 2002 when the composer was just 16.
Maistorovici's music features "vivid contrasts" (London Financial Times) and was praised for its "clarity of expression" (Actualitatea Muzicală Bucharest). His works Halo and Microkosmos were recently commissioned and premiered by the London Symphony Orchestra. Other notable champions of his music have been the London Philharmonic Orchestra, Britten-Pears Orchestra, European Union Chamber Orchestra and Profil Sinfonietta.
Awarded the Gold Medal at the George Enescu International Festival, Night Music for string Quartet was composed in 2002 when the composer was just 16 years-old and is inspired by the Surrey county side at night, where the composer was studying at The Yehudi Menuhin School. In the same musical vein, Monument is a tribute to George Enescu, one of the composer's musical heroes. Cadence En Espace was commissioned by Yuko Shimizu-Amoyal and is inspired by another musical idol, guitarist Brian May, of Queen. Awarded the Clive Christian "Sound of Perfume" Award, transScent is a synesthetic poem inspired by ancient Egypt and will be doubled by video projections. The concert will end with Khadina, a sensuous trance dance inspired by Romania's past under Ottoman influence.
When: 20 January 2012, 7.30pm;
Where: Romanian Cultural Institute, London.
Admission is free, but places are limited. Early booking is well recommended.
Please reserve your seats at T: 020 7752 0134, E: office@icr-london.co.uk.