Nicolas Simion: A Jazzy Hymn to Nativity
18 - 20/12/2015 @ Vortex Jazz Club, 11 Gillett Street, London N16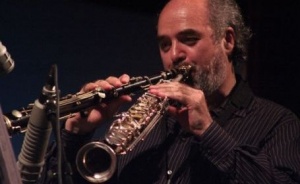 We conclude our musical 2015 with a jazzy celebration at the famous Vortex Jazz Club as Romanian saxophonist and composer Nicolas Simion joins Hannes Riepler (guitar), Mick Coady (bass) and Jon Scott (drums) for two evenings of Christmas-inspired themes and jingles.
On the first evening, Friday 18 December, Nicolas Simion will also launch his latest album 'Romanian Christmas Songs'.
Like many contemporary Romanian composers Nicolas Simion draws for inspiration on the rich reservoir of traditional Romanian folk music. With compositions of either meditative or epic quality, balancing between the lyrical and the trepidant, Nicolas has become known for his "superb stage presence and (his) narrative gift as leader" (Jazzwise).
The musician was born in a small village in the Carpathians, in central Romania. He decided to emigrate to Vienna in 1989, where he had the chance to mingle, and to perform with, jazz heroes like Art Farmer, Leo Wright, Idris Muhammad, Jim Pepper, Harry Sokal and Christian Muthspiel. His first CD, entitled 'Black Sea', was released in 1992. Since then he has caught the attention of a growing audience with periodical releases. In 1995 he was awarded the 'Koernerpreis' for a work commissioned by the Austrian Ministry of Culture. He's been living in Cologne since 1997.
Where & when: Vortex Jazz Club (11 Gillett Street, London N16), Fri 18 December & Sun 20 December, 8.30pm
Tickets: £5 | Please call 020 7254 4097 to book