Nichita Stanescu - 80 years since birth
27/03/2013 @ ICR London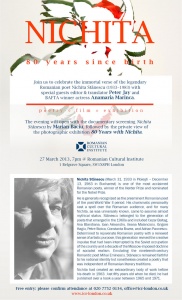 * poetry * film * exhibition *
Join us to celebrate the immortal verse of the legendary Romanian poet Nichita Stănescu (1933-1983) with special guests editor & translator Peter Jay and BAFTA winner actress Anamaria Marinca.
The evening will open with the documentary screening Nichita Stănescu by Marian Baciu, followed by the private-view of the photographic exhibition 80 Years with Nichita, by Ioan Cristescu and Mircia Dumitrescu, in partnership with the Romanian Literature Museum.
27 March 2013, 7pm @ ICR London, 1 Belgrave Square, SW1X8PH. Free entry.
Nichita Stănescu (March 31, 1933 in Ploieşti – December 13, 1983 in Bucharest)

is one of the most acclaimed Romanian poets, winner of the Herder Prize and nominated for the Nobel Prize.
He

is generally recognized as the preeminent Romanian poet of the post-World War II period. His charismatic personality cast a spell over the Romanian audience, and for many Nichita, as was unicersally known, came to assume almost mythical status. Stănescu belonged to the generation of poets that emerged in the 1960s and included Cezar Baltag, Ana Blandiana, Ioan Alexandru, Ileana Malancioiu, Grigore Hagiu, Petre Stoica, Constanta Buzea, and Adrian Paunescu. Determined to rejuvenate Romanian poetry with a renewed sense of artistic purpose, this generation revived the creative impulse that had been interrupted by the Soviet occupation of the country and a decade of the Moscow-imposed doctrine of socialist realism. Emulating the nineteenth-century Romantic poet Mihai Eminescu, Stanescu remained faithful to his national identity but nonetheless created a poetry that was independent of Romanian literary traditions.
Nichita had created an extraordinary body of work before his death in 1983. Just fifty years old when he died, he had published over a book a year between 1965 and 1971.