'News from the Island' – solo exhibition Dan Perjovschi
15/09/2012 - 06/01/2013 @ Reykjavik Art Museum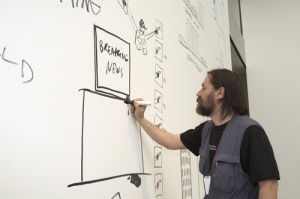 Renowned artist Dan Perjovschi opens his first exhibition in Reykjavik, 'News from the Island', promoted by the Romanian Cultural Institute in London.
Featuring new and recent works in a room installation at the Contemporary Art Museum, the exhibition comments on a variety of controversial topics such as the economic crisis, politics and Europe, alongside cultural, social and technological issues that allude to the conflicted existence of today.
Dan Perjovschi (b. 1961) works with cartoons and 'indoor graffiti'. He draws directly on walls and floors of art museums and galleries. His drawings criticize all manner of popular opposites that flood the mass media, shaping our lifestyles and seeping into our thinking via advertising, value clichés and prejudices.
Dan Perjovschi won the Henkel CEE Prize for Contemporary Drawing in 2002 and he was awarded the George Macinuas Prize in 2004. He represented Romania at the Venice Biennale in 1999 and did a large installation at MoMA in New York in 2008. In June this year, Dan and Lia Perjovschi represented Romania at the Wide Open School at Hayward Gallery, featuring over 100 artists from the competing countries in London 2012 Olympic Games.
When: 15 September 2012 – 6 January 2013
Where: Reykjavik Art Museum, Iceland