NATURE IN THE CITY: ORGANIC HAY SCULPTURES BY ERNÖ BARTHA
21/07 - 12/08/2012 @ Victoria Park, London Pleasure Gardens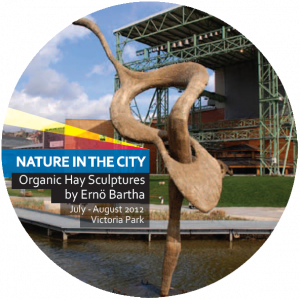 Made of hay enforced with steel frames, Ernö Bartha's sculptures invite you to rediscover the textures and smells of unspoiled nature. "Bird" and "Skyscraper" are installed on West Lake, Victoria Park, one of the busiest parks in the Olympic boroughs, while "Time Spiral", a monumental sculpture weighing more than a tonne adorns London Pleasure Gardens.
Come and enjoy the feeling of authentic nature in the middle of the city!
Artist Ernö Bartha was born on September 5, 1958 in Cluj, Transylvania. He graduated the "Ioan Andreescu" Academy of Visual Arts. Ernö Bartha's works mix extravagant and modern shapes with traditional material resulting in spectacular sculptures. His unique hay sculptures have also been exposed in Hungary.
When: until 2013
Where: Victoria Park (West Lake) & London Pleasure Gardens
Partner: Tower Hamlets Council