N(AUM) - The Spectacular Charm of Surrealism
24/10/2015 @ Leicester Square Theatre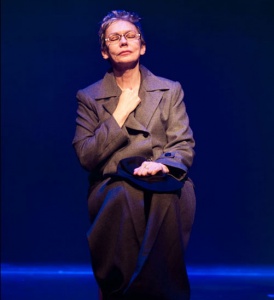 Stage grande dame Oana Pellea, one of Romania's most beloved actresses, stars together with Cristina Casian in the eerie, hypnotic adaption of the work of Europe's last Surrealist master, Gellu Naum. The show is a haunting incursion into the great writer's fascinating universe, which through fragments of poetry, prose, interviews, recollections of friends render a dreamlike, prophetic and colossally humorous vision.


"A universe, a door to another reality, a whirl of conversance, a labyrinth of initiation, a fateful encounter. Thank you Mr Naum for giving us permission to enter." - Oana Pellea
"What Mariana Cămărășan's show does in the first place is to make Gellu Naum look friendly to a broad audience who may not be familiar with his writings but, after this experience, will definitely set off in quest for his poetry. (...) With N(AUM), Mariana Cămărășan digs down deep into the uncertain space between poetry and absurdity where psychology thrives and psychologies unfold; a space that Oana Pellea and Cristina Casian know how to fill with a surprisingly warm and transparent (i)reality." - Monica Andronescu for Yorick, November 2014


N(AUM) is a UNTEATRU project, produced with the help of the Raiffeisen Bank, hosted by the Metropolis Theatre and made with the support of the Gellu Naum Foundation.
Presented in London with the help of the Romanian Government and of the Romanian Cultural Institute.
With the kind support of TransferGo.


Part of RCI London's Gellu Naum Centenary.

Texts by: Gellu Naum
With: Oana Pellea and Cristina Casian
Directed by: Mariana Cămărășan
Set design by: Vladimir Turturica
Light design by: Ştefan Vasilescu
Sound design by: Horia Murgu
The show is performed in Romanian with English sur-titles.


Gellu Naum (1915-2001) was an award-winning and prolific Romanian poet, dramatist, novelist and translator. Considered one of the greatest Romanian writers of the 20th century. He was a prominent member of the European interwar avant-garde movement and a friend of Breton and other members of the surrealist group. Naum is best known for his poetry, being remembered as the founder of the Romanian surrealist group, but also for his prose and theatre, the novel 'Zenobia' being one of his most appreciated works worldwide. He translated works by Diderot, Stendhal, Hugo, Dumas, Jules Verne, Kafka, Beckett. His own works have been translated across several languages, which include in English three collections of poems 'Athanor and Other Poems', 'Vasco da Gama and Other Poems' and 'My tired father', and the novel 'Zenobia'.


Oana Pellea is an internationally acclaimed Romanian actress, whose film credits include Alfonso Cuaron's 'Children of Men' alongside Clive Owen, Oliver Parker's 'I Really Hate My Job', and Stere Gulea's 'State of Fact'. She gave numerous notable theatre performances including Masha in Chekov's 'Three Sisters', Julietta in Klaus Mann's 'Mephisto', and Catarina in Mihai Măniuţiu's production of Shakespeare's 'The Taming of the Shrew'. In London she most recently performed in 'Buzunarul cu Pâine' ('Pockets Full of Bread') at the Riverside Studios, and in Cocteau's one-woman play 'The Human Voice' at the Cockpit Theatre.
When: Sat 24 October, 3pm
Where: Leicester Square Theatre, 6 Leicester St, London, WC2H 7BX
Tickets: £12,00 – student concession; £20 – general admission.
You can book your tickets HERE