Composer Dan Dediu at the Royal Academy of Music
30/04 - 01/05/2012 @ Royal Academy of Music, Marylebone Road, London NW1 5HT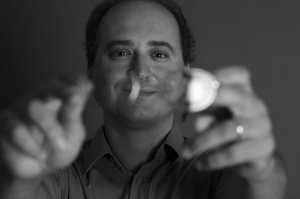 The Romanian Cultural Institute in London continues the collaboration with the Royal Academy of Music with a number of masterclasses and creative workshops coordinated by composer and professor Dan Dediu. The programme concludes with a selection of Dan Dediu's chamber works, performed by RAM professors and students.
Dan Dediu (b.1967) studied composition in Bucharest and Vienna with Stefan Niculescu and Dan Constantinescu and Francis Burt. He composed over 130 opossums for different genres: 4 symphonies and other plays for orchestra (Narcotic Spaces, Ornaments, Studies-Motto, Mantrana, Grana, Verva), 5 concerts (saxophone, violin, viola, piano), 4 strings quartet, chamber music, piano music, choir music, electronic music and 4 opera.
The event is part of an on-going partnership between the Romanian Cultural Institute and the Royal Academy of Music, as since 2008, the Institute has been awarding every year the Enescu Scholarship to an outstanding student at the Royal Academy of Music. Moreover, the collaboration is sustained by numerous young Romanian artists such as Raluca Matei (violin), Florian Mitrea (piano), Anca Campanie (violinist) and Mihai Cocea (violist) who study at the Acadamy and who have also performed in the Young Romanian Musicians event in 2011.
Partners: Royal Academy of Music
When:
30 April: one-to-one teaching with composition students, 10 am – 13 pm; masterclass with all composition students, 2 pm – 5 pm;
1 May: one-to-one teaching with composition students, 10 am – 13 pm;
1 May: Concert at David Josefowitz Recital Hall, 6 - 8 pm
Where: Royal Academy of Music, London