Musical Visionary Rodion Ladislau Roșca Electrifies London
27/11/2018 @ The Horse Hospital, Colonnade, Bloomsbury, London WC1N 1JD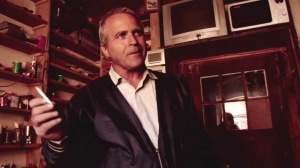 Four years after his acclaimed appearance at Cafe OTO, colossus of sound Rodion Ladislau Roșca makes his much-awaited London comeback. The musician, also known as 'the father of Romanian electronic music', is part of an event curated by performer and serial digressor David Ellis and hosted by The Horse Hospital.
The evening, entitled David Ellis's 'Pell-Mell' and meant to celebrate pan-Europeanism, marks The Horse Hospital's 25th anniversary by bringing together a group of eclectic artists for whom cross-disciplinarity is at home: Polish artist and broadcaster Simon Tyszko, Lithuanian cellist and composer Anton Lukoszevieze, Russian filmmaker and photographer Liijana Jakovlevna, and Scottish filmmaker and painter Louis Bennasi. The event will culminate with a live set from Rodion Roșca.
"This is some of the raddest music you're likely to hear this year. Rad in its overall excellentness and radical as to its forward-thinking nature, sounding so even today, though recorded at the height of Ceausescu's suppression and censorship." – The Quietus
"The forthcoming visit by the revered but lesser-known Romanian pioneer of 1980's electronica Rodion Roșca has acquired a significance that can't be overlooked. Roșca's unique appearance at the Horse Hospital won't simply be a 'gig' or evening of exotic otherness but an acknowledgement that each country develops its own multiple histories. Those that are visible, often manufactured, and those that are not. Due to unintended neglect or 'official' indifference there are artists whose work often remains tucked deep within the folds of a culture for decades, only to be discovered later by another more discerning generation. Rodion Roșca's personal story and his early 1980's melange of musical genres and influences perfectly reflect the core values of The Horse Hospital and myself and we are proud to be hosting this remarkable man." – curator David Ellis
Rodion Ladislau Roșca was born in Romania in 1953, the child of a Romanian father and a Hungarian mother. Having acquired records during Romania's 'open period' between 1965 and 1972, he earned himself the nickname 'The King of Records' and went on to start making his own recordings, eventually forming Rodion G.A. in 1975-6, the initials coming from his bandmates, Gicu Fărcaș and Adrian Căpraru. The band's sound was hugely distinctive from the main output of Romania's rock scene, and their releases, both those featured on the state's Electrecord label's Formații Rock Vol. 5 compilation and their radio-only singles, were massively well-received. They continued to play live even during the Ceaușescu regime's heavy censorship during the 70's and 80's - at one point being pulled up by censors for singing "yeah yeah yeah" in a chorus - and also recorded music for a film, Delta Space Mission, as well as soundtracking the Romanian National Opera, before Roșca retired from live performance and the band's recordings were shelved. What proved to be Rodion G.A.'s final concert took place at Mangalia Festival in 1987. It was around this time that Rodion's mother had died, thing that resulted in Rodion walking away from music for twenty-five years. After a long absence from Romania's musical scene, the artist is rediscovered by blogger Sorin Luca and Future Nuggets and, one year later, Rodion G.A release their debut album 'The Lost Tapes' on Strut Records. Since then, Rodion G.A. have played at a series of concerts and workshops. Berlin, Bucharest and Moscow are just three of the cities to be won over by a musical innovator and maverick, Rodion G.A.
When: 27 November 2018, 7.30pm
Where: The Horse Hospital, Colonnade, Bloomsbury, London WC1N 1JD