Matei Bucur Mihăescu @ St Martin in the Fields
25/10/2011 @ St Martin in the Fields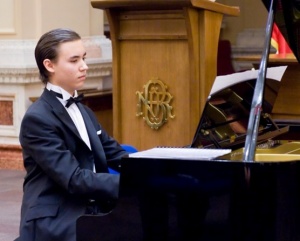 The Wunderkind of Romanian contemporary classical music, the prodigious pianist and composer, Matei Bucur Mihăescu will appear for the first time this autumn in London in a recital organised in partnership between Romanian Cultural Institute and St Martin in the Fields as part of New Music Series. Matei will play some of his most recent compositions.
Programme
Matei Bucur Mihãescu: Piano Sonata No 1 in A minor
Matei Bucur Mihãescu: from Concerti di anno series: Novembre
Matei Bucur Mihãescu: Ave Maria
At just 16, Matei Bucur Mihăescu, a complex talent, has already forged a name for himself in the musical world. At the age of 10 he was already performing at the Romanian Athenaeum, Romania's most prestigious musical scene and he has been performing on the most prestigious concert halls and with the best orchestras in Romania. As a pianist, Matei has an impressive repertoire, covering over 400 years of classical, modern and contemporary compositions, favoring J. S. Bach for whose original interpretation the artist is renowned. Matei has composed more than 80 works for piano, orchestra, choir and other instrumental formulas. In 2008, Matei Bucur Mihaescu founded and started to promote his own chamber orchestra - Cammerata. The artist is already a recipient of various important prizes such as The Excellence Prize of the Romanian Association of Musicologists, Choreographers and Musical Critics and has been recently awarded with the distinction Junior Ambassador of the Romanian Culture in the World.
When: Tuesday, 25th October, 1pm
Where: St Martin in the Fields, London, lunchtime Concerts
Tickets: This lunchtime concert is free and no ticket is required.