Music Tops Up Our 2013
31/12/2013 @ St Martin-in-the-Fields, Trafalgar Square, London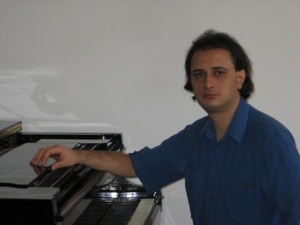 Right on its last day, we end a year full of concerts, film screenings, book launching and exhibitions with a recital of contemporary classical music offered by accomplished pianist and composer Mihai Măniceanu. Start your New Year's Eve celebration with a kaleidoscope of best music ever written by Romanians.
Programme:
Diana Rotaru – Prélude parisien no. 1, Debumessquisse
Cristian Lolea – Étude pour piano
Vlad Maistorovici – transScent
Mihai Măniceanu – The Living
Gheorghe Costinescu – Essay in Sound
Dan Dediu – Heathering Winds
Aurel Stroe – Piano Sonata No. 3, "en palimpseste"
Born in 1976 in Bucharest, Mihai Măniceanu studied piano (1995–2000), composition (2000–2005) and attended the master courses (2005-2006) of both specialisations within the National Unversity of Music in Bucharest. In 2011 he received a PhD from the same institution. He was awarded an Erasmus scholarship by the University of Music and Theatre Felix Mendelssohn Bartholdy, Leipzig (2003-2004), as well as the Bucharest Music Unversity scholarship at Muzikfest Festival, Hamburg (2001), Junger Künstler Festival–Filmmusik, Bayreuth (2002) and ISA 20. Internationale Sommerakademie, Murzzüschlag (2001). Nominated for Prometheus Opera Prima Prize (2009), the pianist received several awards: First Prize at Icon Arts competition (2003), Romanian Academy Prize (for Sus) (2011) and UCMR Prize for Symphonic Work (for Sempre risoluto) (2011). His compositions have been played by George Enescu Philharmonic Orchestra, National Radio Orchestra, F.M. Bartholdy University Orchestra, Profil, Propuls, opus.art, devotioModerna, Swinepearl, Acolade, Traiect, SonoMania, IconArts and Mercury Quartet ensembles, Accoustic and I.C. Danielescu choirs. He studied with Dan Dediu, Ştefan Niculescu, Richard Pfundt, Peter Michael Hamel, Dmitri Terzakis, Nigel Osborne, Maria Fotino, Steluţa Radu, Viniciu Moroianu, Sandu Sandrin, Ina Oncescu, Oana Velcovici and Martha Paladi.
When: Tuesday, 31 December, 1pm
Where: St Martin-in-the-Fields, Trafalgar Square, London.
This lunchtime concert is free and no ticket is required.