MUNCITOR: All Workers Go to Heaven
07 - 11/07/2012 @ Theatre Royal Stratford East, Gerry Raffles Square, London E15 1BN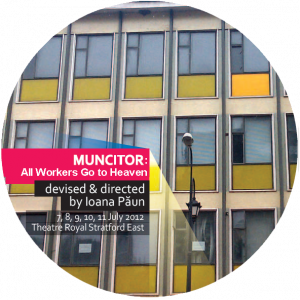 Provocative director Ioana Păun tackles urgent socio-political topics, in a theatrical performance bordering a behavioural experiment. A live art piece that aims at questioning the current social order. Thanks to its structure that leaves the audience in complete control, the show practically writes itself as the public is pushed to respond to unexpected challenges.
This exciting participatory theatre experience has been dev​eloped by Ioana Pãun during her 2012 residency at Theatre Royal Stratford East. Pãun is a theatre director whose cutting-edge work has been showcased as part of international festivals across Europe.
You have a 67% chance to have cried last week.
You have a 40% chance to have laughed last week.
You have a 31% chance to be an immigrant.
You have a 8.2% chance to be unemployed.
You have a 13% chance to be an atheist.
You have a 7% chance to have protested last year.
You have a 51% chances to be a woman.
You have a 95% chance to have been bullied in your lifetime.
You have a 64% chance to have considered homosexuality.
You have a 1% chance to have you identity stolen.
You have 0 chance to go to heaven.
Prove them wrong!
All Workers Go To Heaven takes place in a see-through factory, where you will have the chance to work, earn, sweat, resign, succeed, conform or strike, all in the name of live art.
"Once people are put in an environment in unequal positions will they work to maintain inequality or against it? Does hierarchy cause anxiety? How much inequality will they take?"
Ioana Păun
Partner: Theatre Royal Stratford East
When:
7, 8, 9, 10 and 11 July, at 8 pm
Where:
Theatre Royal Stratford East