MOSES BAND: THE ROCK CONCERT
07/11/2021 @ Romanian Cultural Institute London, 1 Belgrave Square, SW1X 8PH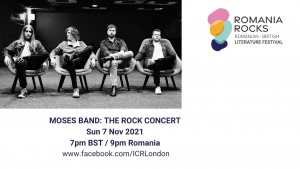 Moses, a best kept secret band - with over ten million Spotify streams, is coming to rock the RCI London with a live unplugged concert on the 7th of November at 7pm. This unplugged concert will be filmed especially for the Romania Rocks 2 Festival. We will be broadcasting their performance later 'as live' and free for all festival-goers on the RCI Youtube/FB channel.
"We leave and stop and then start and come back.
Do you look at yourself enough? Do you know what it's all about? Do you play enough? How do you manage to see yourself in a good light everyday? (You don't and that's ok). Keep on playing the game!" (MOSES)
"Recalling the fizzing energy of very early Blur, except, maybe even better" (Mojo), up and comers, MOSES, have stealthily cultivated followers, especially since April 2020's "greatest hits" -sounding 'Almost Everything Is Bullshit' - their debut LP acclaimed by independent music sites and word of mouth. The band finally got to perform it live on tour in Autumn 2021.
"The band's stage show is crisp, bristling with youthful energy and a sense that they're on exactly the same side as their audience." (Clash). Mostly unheard of by the general public, MOSES are a euphoric revelation. ALL the songs are anthems. Fans sang to them after shows "we love you MOSES, we do..." in Birmingham, while Leeds fans chanted their lyrics in the street. "See them play as soon as possible, they will lift your soul!" (John Kennedy, Radio X)
Having exploded, again, at October's Liverpool Sound City, their energy is recharging for an even busier 2022.
'Mirror Magic' rounds off a creative 2021. Produced by Gavin Monaghan at Wolverhampton's Magic Garden Studio, it heralds their second album - recorded there over lockdown and due for release in Spring.
There are many layers to this Eastern European, Northern Irish, Southern English alt rock quartet that are only just starting to be revealed. Now signed with Marshall Amps' new live agency, look out for more shows, music lovers.
"Quickly becoming the face of Alt Rock" (Clout Magazine),
"This is the beginning of a huge new chapter for them." (Why Generation?)
https://linktr.ee/MOSESofficialUK
When: Sunday, 7 November 2021, 19.00
Where: Romanian Cultural Institute in London, 1 Belgrave Square, SW1X 8PH.
Entrance is free but we kindly request you to book your ticket on EVENTBRITE.
Kindly book only if you are certain to attend and release the seats.
Please note that seating is unreserved.