Morgen, by Marian Crisan @ Romanian Cinematheque
08/11/2012 @ 1 Belgrave Square, London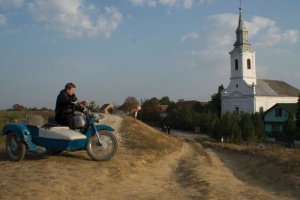 The screening will be followed by a Q&A session via skype with director Marian Crişan.
The Romanian Cinematheque presents in November one of the most critically-acclaimed Romanian films in the last few years, the masterpiece Morgen, directed by Marian Crişan. One of the most important films in the new Romanian wave, Morgen won numerous awards at important international film festivals, such as Locarno, Thessaloniki and CinEast Luxembourg, as well as the prize for the best feature film at TIFF in Cluj.
Morgen was Romania's entry for the Foreign Language Film Oscar Award this year.
The production represents a dramatic story of friendship that transcends the barriers of language and culture. While gone fishing one day, Nelu, a simple man living a monotonous life in a small border town encounters a Turkish emigrant trying to cross the border illegally, in an attempt to reach Germany. Nelu soon finds himself caught between the norms of society, embodied by the border policemen, his wife's disapproval and the wish to help his new friend. Eventually, in spite of the communication issues they encounter, Nelu accommodates his friend in his house, where he decides to help him cross the border the next day, reassuring him with the only word he knows in German: morgen.
The trailer of the film can be seen here.
Romania | 2010 | 100min | directed by: Marian Crişan | with: András Hatházi, Elvira Rîmbu, Petre Ghimbăşan, Yilmaz Yalcin, József Bíró and Molnar Levente. In Romanian with English subtitles.
The Romanian Cinematheque project is realized in partnership with the National Centre for Cinematography in Romania (CNC).
A big thank you to Les Films du Losange.

When: Thursday 8 November 2012, 7pm
Where: Romanian Cultural Institute London
Admission is free but seats are limited. Early booking is well recommended. Please reserve your seats at T: 020 7752 0134, E: office@icr-london.co.uk.
________________________________________________________________________________________
Future screenings of Morgen: 14 November, Edinburgh + director Q&A. More details here.