MONIQUE ROFFEY meets MIRUNA VLADA
04/11/2021 @ Romanian Cultural Institute London, 1 Belgrave Square, SW1X 8PH, 7PM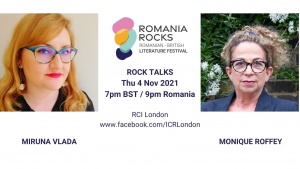 The prize-winning British- Trinidadian writer meets the outstanding Romanian poet. Hosted by presenter and journalist, Rosie Goldsmith, Director European Literature Network.
Monique Roffey is an award winning Trinidadian-born British writer of novels, essays, literary journalism and a memoir. Her most recent novel, The Mermaid of Black Conch, won the Costa Book of the Year Award, 2020 and was nominated and shortlisted for several literary awards. Her other Caribbean novels, The White Woman on the Green Bicycle and House of Ashes, have also been nominated for several major awards. Archipelago won the OCM Bocas Award for Caribbean Literature in 2013. Her work has been translated into several languages and adapted for screen. She is a co-founder of Writers Rebel within Extinction Rebellion. She also is a Senior Lecturer at Manchester Metropolitan University.
http://moniqueroffey.com/about-me
https://en.wikipedia.org/wiki/Monique_Roffey
https://www.theguardian.com/books/2021/jan/27/monique-roffey-on-women-whiteness-costa-the-mermaid-of-black-conch

Miruna Vlada is a young poet and political scientist specialised in European and Balkan studies, born in 1986. She has published 4 collections of poetry: Poemextrauterine (Ectopic poems; 2004), Pauza dintre vene (The break between the veins; 2007) Bosnia. Partaj (Bosnia. Separation; 2014) and Prematur (2021). Selections from her poems have been included in several anthologies, such as The Vanishing Point That Whistles, an Anthology of Contemporary Romanian Poetry translated and edited by Paul Doru Mugur, Adam J. Sorkin, and Claudia Serea (Talisman House Publishing, 2011) and translated into 12 languages. She is a member of the board of directors of PEN Club Romania.
http://www.romanianliteraturenow.com/authors/mirunavlada/
http://www.icr-london.co.uk/article/miruna-vlada-poet-in-the-city.html
Rosie Goldsmith is a former BBC journalist, writer, presenter and director of the European Literature Network. She is an award-winning journalist specializing in arts and foreign affairs. In twenty years at the BBC she travelled the world and presented several flagship programmes. Today she combines journalism with chairing and curating literary events and festivals for leading cultural organisations. Known as a champion of international arts, literature, translation and language learning, she promotes them whenever she can. She is Founder and Director of the European Literature Network www.eurolitnetwork.com and created The Riveter magazine. From 2018-2020 she was Chair of the Judges of the EBRD Literature Prize, honouring authors and translators equally. https://en.wikipedia.org/wiki/Rosie_Goldsmith
https://www.ft.com/content/69221cc5-95ae-4d1e-bb91-daff02b69a31
When: Thurs, 4 November 2021, 19.00
Where: Romanian Cultural Institute in London, 1 Belgrave Square, SW1X8PH
Entrance is free but we kindly request you to book your ticket on EVENTBRITE.
Kindly book only if you are certain to attend and release the seats.
Please note that seating is unreserved.
*Face coverings highly recommended.