Miruna Vlada @ Poet in the City
22/09/2011 @ Romanian Cultural Institute London, 1 Belgrave Square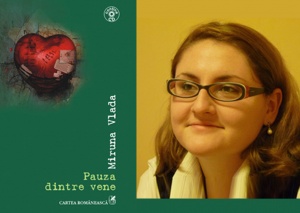 Special guest: Jo Shapcott
Following three inspiring evenings with Denisa Comănescu, Claudiu Komartin and Bogdan Ghiu, we continued the Contemporary Romanian Poets series with the young and provocative Miruna Vlada. Publishing her first anthology Ectopic Poems (2004) at just 18, Miruna famously provoked a public debate about 'feminine' writing. Her most recent collection, Break Between Veins, was published in 2007. She has been included in anthologies of the most important young Romanian poets and her poetic work has been widely translated across Central and Eastern Europe.
Miruna Vlada was joined by special guest Jo Shapcott, award-winning British poet. Poems from her three award-winning collections, Electroplating the Baby (1988), Phrase Book (1992) and My Life Asleep (1998) are gathered in a selected poems, Her Book (2000). She has won a number of literary prizes including the Commonwealth Writers' Prize for Best First Collection, the Forward Prize for Best Collection and the National Poetry Competition (twice). Tender Taxes, her versions of Rilke, was published in 2001; Of Mutability in 2010.
The reading was attended by 40 poetry lovers, who appreciated Miruna's and Jo's dazzling variety of tone, colour and subject throughout.
The event was hosted by Amanda Hopkinson, a Senior Fellow at the University of East Anglia and Visiting Professor of Literary Translation at Manchester University and at City University, London, who provided an English introduction and placed the poets in context for the English-speaking members of the audience.
Poetry in Romanian was read and performed in English translation by actress Cristina Catalina.
The series is organised in partnership with Poet in the City and presents six of Romania's most accomplished poets: Denisa Comanescu, Claudiu Komartin, Bogdan Ghiu, Miruna Vlada, Andrei Bodiu and Vasile Garneţ.
When: Thursday 22 September, 7 pm;
Where: Romanian Cultural Institute, 1 Belgrave Square, Londra SW1X 8PH