Mihaela Drăgan's 'Roma Futurism': from the Royal Court to Belgravia
13/07/2019 @ RCI London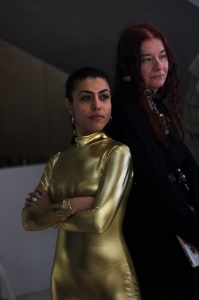 This July, we are proud to continue our collaboration with the Royal Court Theatre and celebrate Romanian actress and playwright Mihaela Drăgan, selected by the prestigious organisation for their 2019 Summer Residency programme. At 1 Belgrave Square, together with British artist Delaine Le Bas, the acclaimed dramatist performs a rehearsed reading of her concept play entitled 'Roma Futurism'. The event is supported by National Centre of Roma Culture from Bucharest.
Creating performances that have a feminist agenda and bring to life issues the Roma community faces nowadays, Mihaela Drăgan has developed Roma Futurism starting from the painful oppressive history of the Roma people. Her play aims to reimagine the Roma's image as a community "blocked in the past", presenting them as inventors of the ultra-advanced technology. As Roma have always been perceived to be the keepers of ancient knowledge, Roma Futurism imagines space and a utopian future, where a group of Roma women - witches and alchemists - control the technology and have the power of returning in the past to change oppressive historical events such as slavery or Samudaripen (the Roma Holocaust).
Mihaela Drăgan is an actress and playwright who lives and works in Bucharest and Berlin. In 2014, she founded Giuvlipen Theatre Company, creating, together with other Roma actresses, a "revolutionary theatre" (Reuters). She is also a trainer at Theatre of the Oppressed, where she works with Roma women on their specific issues. One of the six finalists for the 2017 Gilder/Coigney International Theatre Award in New York, which acknowledges the exceptional work of theatre women around the world, Drăgan is also known for her role in Radu Jude's 2015 Silver Bear winner, 'Aferim'. In 2018, she was acknowledged by PEN World Voices Festival in New York as one of the ten most respected dramatists of the world. Mihaela Drăgan is currently working at Maxim Gorki Theatre in Berlin.
Delaine le Bas is a cross disciplinary artist working and living in various locations around Europe. She was one of sixteen artists exhibiting at The First Roma Pavilion, Paradise Lost, at Venice Biennale (2007). Her works have also been displayed at Gwangju Biennale South Korea 2012, Prague Biennale 2005 & 2007, Off Biennale Budapest 2015 and many others. Delaine is also an artist and curator for Athens Biennale 2018 and is the co-curator for Come Out Now!, the 1st Roma Biennale at Maxim Gorki Theatre .
When: Saturday 13 July 2019, 19.00
Where: Romanian Cultural Institute, 1 Belgrave Square, London SW1X8PH
Free entry. Please confirm your attendance on EVENTBRITE. Please note that seating is unreserved.