Midsummer Indulgence at St Martin-in-the-Fields
11/08/2015 @ St Martin-in-the-Fields, Trafalgar Square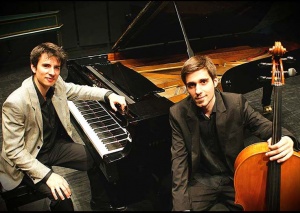 Cellist Teodor Rusu and pianist Paul Cartianu, two of the most eulogised performers of the young generation, render a midsummer musical delight to soundtrack the careless adrift of a London August afternoon. The Salzburg-based Romanian duo's programme peaks with Bartók's energetic Romanian dances after a virtuosic detour through Beethoven, Mozart and Brahms.
The concert is part of the Romanian Cultural Institute Series at St Martin-in-the-Fields.
Teodor Rusu gave his is first solo performance was at the age of 8, with the 'Gheorghe Dima' Philarmonic in Brasov, and later on at the age of 13, he performed the cello concerto written by Camille Saint-Saëns. The cellist is the prize winner of various national and international competitions : 'Mihail Jora' Cello competition (2008) , 'Miniatura Romantica' Competition (2010), 'Rudolf Matz' International String Competition(2013), 'Enrico Mainardi' Cello Competition(2014) and Liezen International Cello Competition (2014). In 2014 he received endorsement from the International Salzburg Association and Theodor-Rogler Foundation. Teodor attended several master classes troughout Europe with, amongst others: Rafael Rosenfeld, Frans Helmerson, Giovanni Gnocchi, Martin Hornstein, Janos Starker and Laszlo Fenyo. As an avid chamber musician, he has worked and collaborated with artists such as: Wolfgang Redik, Rainer Schmidt, Pavel Gililov, Imre Rohmann, Andreas Weber and Cordelia Hofer-Teutsch. Since 2011 he has been studying at the Mozarteum University of Salzburg and is currently attending the class of Enrico Bronzi.
Paul Coriolan Cartianu graduated Piano Performance at the Mozarteum University in Salzburg in June 2012 and, currently, is studying Piano Performance Soloist Training at the same school with Professor Andreas Weber. In 2011, Paul was awarded the 'Yamaha Scholarship' and in 2014 he received a scholarship from the International Salzburg Association (ISA). Paul Cartianu has performed recitals in Romania, USA, France, Italy, and Germany. He played as a soloist with orchestras in USA, Austria and Romania and has a growing experience in performing with chamber ensembles. In 2013 he performed Cesar Bresgen's 'Totentanz nach Holbein' with members of the Mozarteum Orchestra Salzburg; later that year he was the soloist of Edward Grieg's piano concerto in the opening concert of the Young Classic Europe Music Festival in Passau, Germany. Paul has taken part in master classes with Dina Yoffee, Sergey Maltseev, Aquiles Delle Vigne, Fabio Bidini and Arkadi Zenziper.
When: Tuesday, 11 August, 1pm

Where: St Martin-in-the-Fields, Trafalgar Square, London

This lunchtime concert is free and no ticket is required.