Meet "the ROlympians"
29/05 - 09/09/2012 @ Romanian Cultural Institute London, 1 Belgrave Square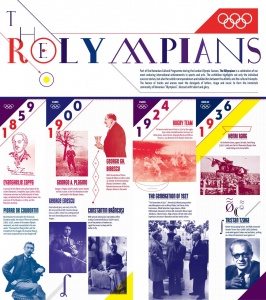 Produced and curated by the Romanian Cultural Institute in London, and designed by Arnold Estefan, the exhibition opens under the patronage of HE Dr Ion Jinga, the Ambassador of Romania to the United Kingdom of Great Britain and Northern Ireland, in the presence of guest of honour Mr Ivan Patzaichin, multiple Olympic champion.
Part of the Romanian Cultural Programme during the London Olympic Season, in short the ROlympics, this photographic depiction of athletic and cultural excellence celebrates our most enduring international achievements in sports and arts. The heroes of tracks and arenas meet the demigods of letters, stage and music to form an immortal community of Romanian "Olympians", blessed with talent and glory.
"The ROlympians" (ROlimpienii) brings together legendary gold medallists such as Nadia Comăneci, Iolanda Balaş and Ivan Patzaichin with renowned artists Constantin Brâncuşi, Angela Gheorghiu, Herta Müller and many more, revealing subtle correspondences and solidarities between athletic and artistic achievements born from a passion to succeed. It offers fresh insight into over 60 stories of success, through witty ideas, images and illustrations, designed by visual maverick Arnold Estefan, who he has exhibited at La Triennale, Paris (2012); No Pass Biennial, Budapest (2009); MNAC, Bucharest (2006); and Play Gallery, Berlin (2004).
Join us also for the launch of the ROlympics, the Romanian Cultural Programme during the London Olympic Season for ears, eyes, and palates.
When: Tuesday 29 May, 7.00pm. The exhibition continues until 9 September, Mon - Fri 10am - 5pm.
Free admission.
"The ROlympians" is set up in partnership with the Embassy of Romania in London, Romanian Olympic and Sports Committee, Museum of Romanian Sport, National Museum of Romanian Literature, and with the support of Adevărul Newspaper, Historia Magazine, National News Agency AGERPRES, National Authority of Sport and Youth. It includes photos kindly provided by Nicolae Alexa, Roald Aron, Alex Galmeanu, Marian Iliescu, Paul Neagu Estate, Petrică Tănase and Marian Vilău.