Matei Visniec Meets His London Enthusiasts
28/06/2013 @ Romanian Cultural Institute, 1 Belgrave Square, London, SW1X8PH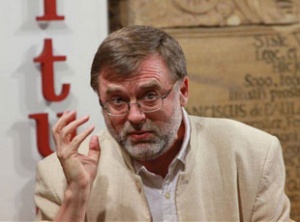 We are proud to welcome the celebrated Paris-based playwright, novelist and poet Matei Visniec at his first appearance in 1 Belgrave Square, the very address of Romanian culture in Britain. The reputed writer will be engaging in a dialogue with his London enthusiasts, following the latest staging of his much acclaimed play, "The Body Of A Woman As A Battlefield In The Bosnian War", directed by the emerging talent Alexandru Nagy.
One of the most illustrious contemporary Romanian writers, with a work written both in Romanian and French (in1987 he was granted political asylum in France and, ever since, he has lived there), Matei Visniec has been particularly praised for his plays, successfully staged all over the world.
"The Body Of A Woman As A Battlefield In The Bosnian War" examines the relationship between a highly educated American psychologist and a rape victim of the Balkan conflict in the early nineties; two women coming from two (apparently) different worlds united by a deep suffering, generated by the horrors of war. Exploring human suffering and redemption and engaging with universal truths against the background of easily identifiable contemporary realities, the play has gained universal acclaim.
The show is performed in English.
The performance is directed by Alexandru Nagy
Starring: Kate – Anna Burkholder, Dorra – Lavinia Simina
Video: Cinty Ionescu
Set Designer: Marcio Andrey Santarosa
Sound Designer: Danni Ionescu
Traslated from French by Alison Sinclair
A Romanian actor and director born in Cluj-Napoca, Alexandru Nagy has a BA in Acting from the Bucharest National University of Theatre and Film and is the founding Artistic Director of Independent Professionals Theatre. This take on "The Body Of A Woman As A Battlefield In The Bosnian War" is inspired by his work at East 15 Acting School in London.
When: Friday, 28 June, 7 pm
Where: Romanian Cultural Institute London, 1 Belgrave Square. Admission is free, but places are limited. Early booking is well recommended. The seats are allocated on a first come, first served basis.
Please reserve your seats at T: 020 7752 0134, E: office@icr-london.co.uk