Marvellous Ioana Pavelescu in 'Zelda' at The Cockpit Theatre
12/11/2016 @ The Cockpit, Gateforth Street, Marylebone, London NW8 8EH, T: 020 7258 2925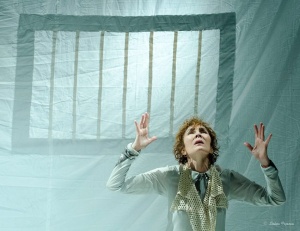 Play the Spotlight Theatre and the Romanian Cultural Institute present the London premiere of William Luce's hypnotic monodrama 'Zelda – The Last Flapper' with a towering performance by Ioana Pavelescu, the beloved star of Romanian theatre&film and the 2013 recipient of the Best Actress award at the New York City Independent Film Festival. The show was performed to much critical acclaim at the 2014 edition of Edinburgh Fringe and was hailed by the Broadway Baby as "a sensational performance".
'Zelda – The Last Flapper', directed by Liana Ceterchi, celebrates the life and legacy of Zelda Fitzgerald, the wife of legendary F. Scott Fitzgerald and one of the most intriguing characters of the 20th century, whose larger than life personality was ultimately ravaged by mental illness and crushed under the weight of her husband's celebrity. A famous figure of the American "roaring Twenties", Zelda was a woman of many talents - painter, writer, ballet dancer - with a legacy that is yet to be fully discovered.
Join us for this must-see performance and acting tour-de-force!
Running time: 60min. In Romanian with English surtitles.
When: Sat 12 November, 7:30 pm
Where: The Cockpit, Gateforth Street, Marylebone, London NW8 8EH, T: 020 7258 2925
Tickets: £10 – You can book your ticket HERE