Marin Gherasim's Heavenly Visions Open the New Series Romanian Contemporary Masters
30/04 - 06/06/2013 @ Romanian Cultural Institute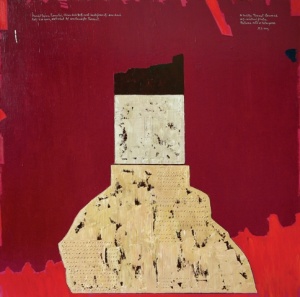 Private View in the presence of the artist
The "Brancusi" Gallery of the Romanian Cultural Institute provides the scene for a new and exciting series of exhibitions dedicated to the most revered names of Romanian painting of today. Projecting a genuine visual history of Romanian art of the recent decades, the series, entitled "Romanian Contemporary Masters", will bring to London three of the most outstanding Romanian painters: Marin Gherasim, Ştefan Câlţia and Sorin Ilfoveanu.
Marin Gherasim opens the series with a seamless journey through his landmark work, accompanied by a startling performance by award-winning harpist Paula Popa, in a vibrant encounter between colour, music and stories.
Deeply rooted in his native Bucovina, the painter is influenced by Byzantine art and spirituality as much as he draws on Symbolism or Expressionism. As a child, he visited the lavishly painted churches inhabiting the scenic valleys of Moldoviţa, Suceviţa, Humor and Voroneţ, the experience following him for the rest of his life. He also took violin and piano lessons, developing an enduring passion for music that infuses his art with an enveloping sense of structure and rhythm.
Marin Gherasim studied at the Fine Arts Academy in Bucharest and in 1963 began regularly exhibiting in Bucharest salons and internationally. In 1981, Gherasim was awarded the prestigious Caravaggio Prize in Rome. The artist is the founder of the legendary Group 9+1 together with Horia Bernea, Florin Ciubotaru, Sorin Dumitrescu, Horea Mihai, Vasile Gorduz, Napoleon Tiron, Bata Marianov, Doru Covrig, and was the valued friend and painter-professor of future artists of uncontested talent such as Christian Paraschiv, Anca Mureşan, Ştefan Râmniceanu. In 2002 the artist was the recipient of the Grand Prize of the Romanian Artists' Union for his entire career.
Many of Gherasim's works explore the symbolic universe of religious architecture and rituals, reordered on canvas in constellations of signs and magnetic colours. "When the communist regime in Romania demolished churches, I built them in my paintings – says the artist. The City, the Tower, the Apse, all reflect the aspiration to permanence and the wisdom of construction (the world is well built!), but also the universal entropy and the violence of history. For me, painting is confession".
Paula Popa's harp performance will include the following compositions:
River Flows in You - Yiruma
Gnossienne No.1 - Erik Satie
Gymnopedie No.1 - Erik Satie
Moonlight Sonata - Beethoven
Le Onde - Ludovico Einaudi
Ave Maria – Schubert
When: Opening and reception 30 April, 6.30 – 8.30pm. The exhibition continues until 6 June, 10am – 5pm.
Where: Romanian Cultural Institute, 1 Belgrave Square, SW1X 8PH.
Free entry. Please confirm your attendance at office@icr-london.co.uk.